My Photography of
2007 Spring Tour
George Duke at the Detroit Music Hall in Detroit, MI on April 27, 2007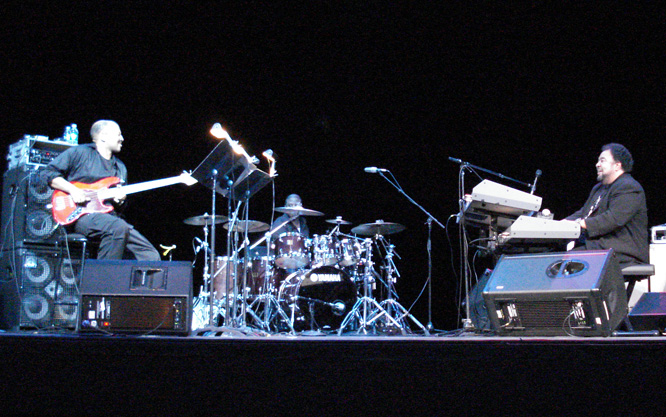 This is the second time I have seen George Duke in concert. The first time was last summer at Chene Park on August 6, 2005. This time, he didn't have as large of a band with him and he didn't bring his back-up singers. That didn't bother me one bit! The sound quality was excellent---this was my first time at this venue and I was definitely impressed. I had the best seats in the house too---front row center, just to the left of the aisle. Just like at the last show, he got pretty funky at the end and a few people started dancing. I figured what the heck and got up and joined them. After I really started gettin' down, some more people came up to the front of the stage and joined me. Then George started letting random musicians from the audience come up and play with him! As if the concert weren't enough, after the show, George was nice enough to come out and sign autographs and take pictures with his fans. It was definitely a night to remember. Unfortunately, I used my mini-camera for these photos, so they aren't as good of quality as most of my concert photos. There are also some movie clips at the bottom if you want to know what George sounded like.
Click on the thumbnails below for an enlarged view.
Here's me with George...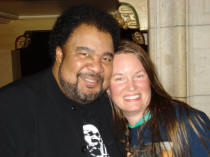 MOVIES
Small Movie Clips (160 X 112)---tiny but sound good
Jam showing whole band from afar (1:08) George's Electric Keyboard Solo (2:25) Introducing Band (1:02)
Jam showing musician closeups (3:00) Drum Solo (1:26)
TV-Quality Video Clip (640 X 480)---awesome quality, slow to download
Whole band Jamming with quick "Echidna's Arf" Ending (1:45)
Or watch these three videos from above on youtube...
George's Electric Keyboard Solo
Jam showing musician closeups
Whole band Jamming with quick "Echidna's Arf" Ending (visit youtube and click on the High Quality option below the video)
Go to Concert Photos Main Page
[ Project Object ] [ Ugly Radio Rebellion ] [ Ed Palermo Big Band ]
[ George Duke ] [ Zappa Plays Zappa 2006 ] [ Zappa Plays Zappa 2007 ] [ Jean-Luc Ponty ]
[ Joe Satriani ] [ Sonny Landreth ] [ Ozric Tentacles ] [ Chieli Minucci ]
[ Home ] [ Artwork ] [ Photography ] [ Art Cars ] [ Virtual Museum ] [ Pets ] [ Favorite Links ] [ What's New / My Blog ] [ Guestbook ] [ For Sale ]
Copyright © 2007-2012 kozmicdreams.com. All rights reserved.
All materials contained on this site, including text, graphics and icons, are the property of kozmicdreams.com.