Photography of Me with Musicians, Artists and Celebrities
Some of my meetings with inspirational people are explained below with accompanying pictures. You can click on most of their names to visit their official websites and find out more about them.
Click on any photo to see a larger view!
Musicians
Ray White
I first saw Ray White perform with Zappa Plays Zappa in the summer of 2007, but I didn't get to meet him personally until New Year's Eve of 2009. That night, he played at Mac's Bar in East Lansing, MI with my favorite band, Project Object. I was also fortunate to get to hang out with him for a little bit at Martyr's in Chicago on the following two days---really a great guy! Here are a couple photos of me with Ray and Ike Willis at Mac's Bar. Click here to see more photos and watch videos from this tour.
On February 3, 2009, I finally had the pleasure of meeting Ed Mann. I know of him from his work with Frank Zappa in 1976-1988. He describes himself as a "lifelong percussionist/musician, vibraphonist and mallet player, composer/electronic sound designer, educator and sound artist." I saw him play twice with my favorite band, Project Object, once on February 3, 2009 at the Blind Pig in Ann Arbor, MI, then again on February 6th in Kalamazoo at Papa Pete's. Click here to see some videos of these shows.
On September 6, 2008, I met guitarist and composer, Chieli Minucci after his performance at the Village Theater at Cherry Hill in Canton, MI.
Click here to read more about the show and watch a few videos.
On March 17, 2008, I met Eric Sardinas, an amazing slide guitarist with a lot of energy. I had seen him before in 1999, when he opened for Steve Vai's "Ultra Zone" tour. I remember thinking that I had never seen such a wild guitarist in my life---the thing I'll never forget was when he played slide guitar with a full, opened beer bottle, capped with his thumb, shaking up the contents as he went crazy on the guitar. Then, during the really intense part of the song, he let the beer spray out all over! He didn't do that at the show tonight---it was at the Ark in Ann Arbor, MI. I don't think it would have gone over too well with this crowd---they were too reserved for that kind of fun. Still an incredible show though---after 8 years, he really improved on the guitar (I thought he was good before, which was why I decided to see him again, but now I think he just might be my favorite slide guitarist). He seems like a really nice person and was willing to sign autographs and take pictures after the show. I got his new CD, "Eric Sardinas and Big Motor" signed and got a photo of us. By the way, I absolutely love his pants---wish I had a pair like that.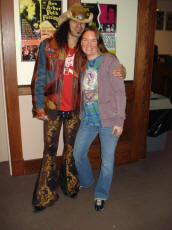 On March 6, 2008, I had the opportunity to meet Adrian Belew, known by most for his guitar and vocal skills in Frank Zappa's bands and King Crimson. He and his power trio played at the Magic Bag in Ferndale, MI. What an incredible show! It was a trio with Eric Slick playing drums (I've also seen him with Project Object) and his sister, Julie, on bass, whom I met for the first time. Andre Cholmondeley of Project Object had told me that Adrian was very much into cars and so I had planned to bring the Music Machine to get our picture beside it and be able to share it with him. However, the very night before, I had to move it into Cobo Center for the 2008 Autorama Extreme, since it was on display this year. I did get a few pics backstage though...
I saw the trio again on July 20, 2009 at the Ark in Ann Arbor, MI. I recorded one video that is about 20 minutes long.
On September 15, 2007, I met Jimmy Carl Black, "the Indian of the Group", former member of The Mothers of Invention, led by Frank Zappa. Actually, this was my second time meeting him, but I didn't have my camera with me the first time when I heard him play with the Grandmothers in 2000. This time, it was the Jack and Jim Show, which was Jimmy Carl Black on percussion and Eugene Chadbourne on stringed instruments (guitar and banjo mostly). They also had a keyboardist, bassist (who played the huge bass), and another musician who played some crazy instrument that had strings and a horn—he used a bow on it like a violin. It was one weird thing. The keyboardist had some device hooked up that acted like a theramin—you could make different hand motions and it would change the pitches and effects. After the show, Jimmy came out to see the Music Machine, but unfortunately, it was very dark and the lighting was poor. Even with the lantern I brought, it was difficult to see. Tried to get a picture, but of course the hood didn't turn out.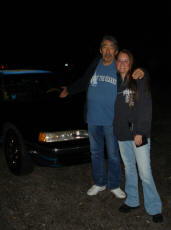 On April 27, 2007, I met one of my favorite keyboardists---George Duke, former member of Frank Zappa's bands. You can read more about my experience on my George Duke Photography Page.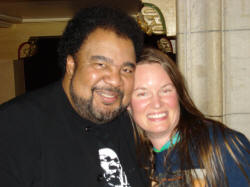 On October 17, 2006, I met Al DiMeola after he played a show at the Magic Bag in Ferndale. This was my second time meeting him. The first time was at the Royal Oak Music Theater about 4-5 years ago. It is nice of him to take the time to hang out after the show to visit and sign autographs. André Cholmondeley from Project Object was his guitar tech this time and arranged for Al to see the Music Machine afterward, as Al is also a big fan of Frank Zappa. Unfortunately, my camera was too cold after being in the car and the flash wouldn't work. Luckily, "MistaLee", a friend of Ugly Radio Rebellion, was there with his camera to take the picture of Al and me below. He also scanned in the set list for me.
Ed Palermo and Napoleon Murphy Brock
On September 4, 2006, I met Ed Palermo after he played a show at the Detroit Jazz Festival. I also saw Napoleon Murphy Brock after the show. I took photos and video clips of the Ed Palermo Big Band playing the music of Frank Zappa.
On July 3, 2006, I met Sonny Landreth after he played a show at the Ark in Ann Arbor, MI. I also took photos of Sonny Landreth and his band playing.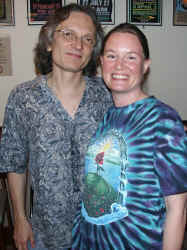 Ed Wynne of Ozric Tentacles
On July 1, 2006, I met Ed Wynne from Ozric Tentacles for the second time. This time, I got a photo of us. I also took some pictures of Ozric Tentacles jamming at the Magic Stick in Detroit, MI.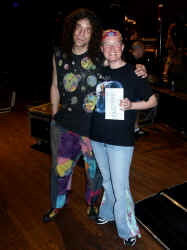 Here I am with Joe Satriani outside his tour bus at the Orbit Room in Grand Rapids, MI. It was April 24, 2000. This was my second time meeting him, but the first time I didn't get a picture.
Here I am with Steve Vai at a signing to promote his new album at the time, "The Ultra Zone." This was on September 11, 1999. He played 3 songs off the album right there at a Harmony House Record store, including "For the Love of God." I was lucky enough to get a VHS copy from a guy who brought a camcorder.
I also have pictures of me with the band, Project Object, a Frank Zappa tribute band, but they are on a separate page. This includes my meetings with Don Preston, Napoleon Murphy Brock, and Ike Willis. Click the link below to see them.
Go to Project Object Photography Page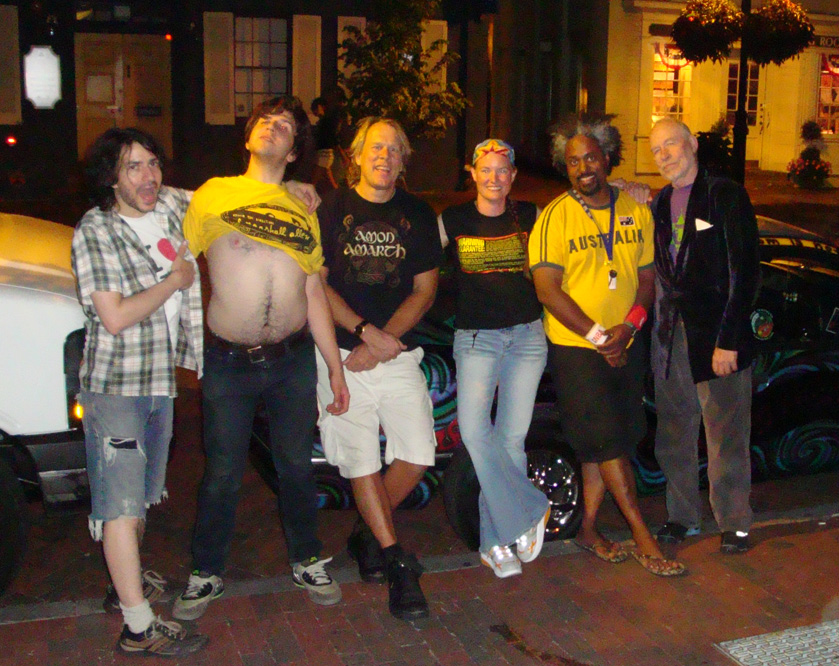 Artists
On July 15, 2005, at the Rivers Edge Gallery in Wyandotte, MI, I met Gary Grimshaw, a music poster artist who got his start in the 60's. I bought a couple limited edition signed prints and had the opportunity to see a lot of his work that is not shown anywhere else. He also signed one of my favorite Frank Zappa collectibles---my Mothers of Invention postcard that he created for a show in 1968. He told me that he did the light show for that event as well. Below are a picture of me and Gary, my signed Mothers postcard, and the postcard advertising his show (front and back). You can purchase some of Gary Grimshaw's posters here.
Go to Favorite Photos Main Page
[ Insects, Spiders and Other Tiny Creatures ] [ Frogs ] [ Toads ] [ Turtles ] [ Birds ]
[ Raccoons ] [ Opossums ] [ Groundhogs ] [ Rabbits ] [ Squirrels ] [ Mice ]
[ Trees and Wooded Scenes ] [ Hines Park Maple Tree ] [ Saugatuck Sand Dunes ] [ Croatan National Forest ] [ Wildlife of the Huron River in MI ]
[ Henry Ford Estate ] [ Flowers and Plants ] [ Matthaei Botanical Gardens ] [ Mosses, Fungi and Lichens ]
[ Natural Settings and Wildlife ] [ Skies ] [ Shedd Aquarium ]
[ Concerts ] [ Me ] [ Me with Celebrities, Artists and Musicians ] [ Family and Friends ] [ Paternal Relatives ] [ Family Album ]
[ Detroit Autorama 2004 ] [ Detroit Autorama 2005 ] [ Detroit Autorama 2007 ] [ Detroit Autorama 2008 ]
[ Woodward Cruise 2006 ] [ Woodward Cruise 2008 ] [ Woodward Cruise 2009 ] [ Michigan Avenue Cruise 2008 ]
[ Wintertime and Christmas ] [ Halloween ] [ Cityscapes ] [ Miscellaneous Photography ]
[ Home ] [ Artwork ] [ Photography ] [ Art Cars ] [ Virtual Museum ] [ Pets ] [ Favorite Links ] [ What's New / My Blog ] [ Guestbook ] [ For Sale ]
Copyright © 2007-2012 kozmicdreams.com. All rights reserved.
All materials contained on this site, including text, graphics and icons, are the property of kozmicdreams.com.