My Photography of Ozric Tentacles
2006 Summer Tour
Ozric Tentacles at the Magic Stick in Detroit, MI on July 1, 2006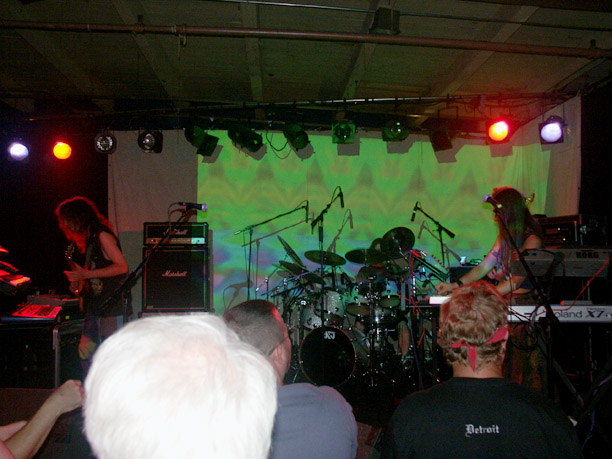 Ozric Tentacles currently consists of Ed Wynne (guitar, keyboards and mastermind), Hagos (bass), Ed's wife Brandi Wynne (keyboards) and Oliver Seagle (drums, percussion).
Click on the thumbnails below for an enlarged view of each photograph.
A special thanks goes to Brian Beauchene for holding my camera bag (and snapping a few of the first shots and the picture of Ed and me) during the show so that I was able to dance to this incredible music!
Previously, I saw the Ozrics play in the summer of 2004, twice. The first time was on July 10, 2004, when I traveled 10 hours to see them at the All Good Festival. They didn't go on until about 1 am and played until 3-something. There was a dense fog and a bunch of cecropia and luna months all over the place. It was unforgettable. The second time was July 12, 2004, at the Magic Bag in Ferndale, MI. John Egan was with them at the time and did some awesome flute work. I asked Ed what happened to John when I saw them in 2006, and he said that "John went loopy" and was no longer in the band. Sad because he really added a lot to their music.
Go to Concert Photos Main Page
[ Project Object ] [ Ugly Radio Rebellion ] [ Ed Palermo Big Band ]
[ George Duke ] [ Zappa Plays Zappa 2006 ] [ Zappa Plays Zappa 2007 ] [ Jean-Luc Ponty ]
[ Joe Satriani ] [ Sonny Landreth ] [ Ozric Tentacles ] [ Chieli Minucci ]
[ Home ] [ Artwork ] [ Photography ] [ Art Cars ] [ Virtual Museum ] [ Pets ] [ Favorite Links ] [ What's New / My Blog ] [ Guestbook ] [ For Sale ]
Copyright © 2007-2012 kozmicdreams.com. All rights reserved.
All materials contained on this site, including text, graphics and icons, are the property of kozmicdreams.com.