My Photography and Video of Project Object
Being a Frank Zappa fan (now that's an understatement), my favorite live band right now would have to be Project Object. This incredible band is headed by André Cholmondeley (guitar/vocals)---it is because of him that this band even exists. In addition to the very talented regular musicians in the band (Eric Svalgard, Eric Slick, Dave Johnsen and Robbie "Seahag" Mangano), so far, five original members (sometimes even three of them on stage at once) from Zappa's bands have joined up with Project Object and they perform Frank's music. To date, I have seen Ike Willis, Don Preston, Napoleon Murphy Brock, Ed Mann, and Ray White perform with the band. Now that Frank's gone, this is the best it gets. I've seen 32 shows and even driven 5-7 hours on fourteen different occasions to see these guys---that's how awesome they are! I have obtained a set list from every show I've attended. Click here to see my set lists. Most of my pictures are of me with band members hanging out before or after shows, often around the Music Machine, my airbrushed art car dedicated to Frank Zappa, although there are a few photos of the band playing. Be sure to check out the youtube videos embedded on this page!
Click on the thumbnails below for an enlarged view of each photograph.
2010 --- 2 shows
Well, I got to end 2009 with a Project Object show on New Year's Eve. Then I got to start 2010 with two shows at Martyr's in Chicago (my favorite venue)! Because of the snow and salt, I wasn't able to take the Music Machine. I did bring my photo album to show Ray White though, and he definitely enjoyed seeing it. Hopefully next time he can see the real car. This tour's line-up consisted of André Cholmondeley (guitar, vocals), Dave Johnsen (bass, vocals), Eric Svalgard (keys, vocals, theramin), and Jim Ruffi on drums and vocals. The special Zappa alumni were Ray White and Ike Willis.
Videos from January 1, 2010...
Videos from January 2, 2010...
Below is Dave Johnsen on bass, performing "Apostrophe." The second video is "Blessed Relief," dedicated to André's mom, Janet, who passed away just after the summer 2009 tour.
Photos from January 2, 2010...
I was hoping to get a shot of the entire band, but they were getting ready to leave and I couldn't find Eric at the time, so here are two photos of me with everyone except Eric, who was photographed separately. From left to right are Jim Ruffi, Ike Willis, Ray White, André Cholmondeley, and Dave Johnsen.
Early Winter Tour 2009
After going nearly 16 months with no shows within a 6-hour radius (there were a few on the east coast that I couldn't make it to), I finally got to see my favorite band again! This year, there were three Zappa alumni---Ike Willis on guitar/vocals (FZ tours and albums 1978-1988), Don Preston on synth/keys/vocals (Mothers of Invention and FZ tours and albums 1966-1974) and Ed Mann on percussion and the electronic vibraphone (FZ tours and albums 1976-1988). This was the first time in history all three of them have been on the same stage playing Frank's music! I was very happy to finally get to see/hear Ed Mann since he usually only plays in the New York area. Unfortunately, I couldn't bring the Music Machine due to the salt on the roads, but I did bring my photo album that shows its creation and some pictures to share with Ed. I hadn't seen Don Preston in nearly 6 years and had been pretty convinced that I may never see him again. I'm so glad he was on this tour. Other members on this tour included Eric Svalgard on keys/theramin, Eric Slick on drums, Robbie "Seahag" Mangano on bass (I've only seen him play guitar until now), and of course, none of this would be possible if it weren't for André Cholmondeley on guitar/vocals.
Photos from February 3, 2009 at the Blind Pig in Ann Arbor, MI...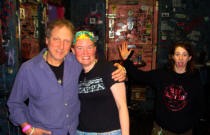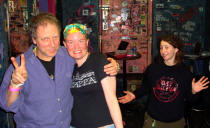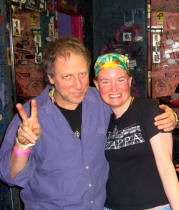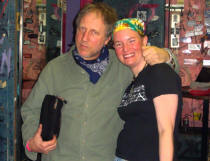 Here I am with Ed Mann. Also pictured is Layla Hall.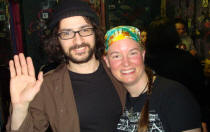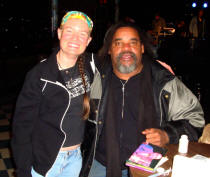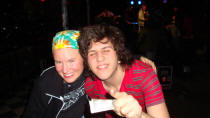 Here I am with Robbie Mangano, Ike Willis and Eric Slick.

Videos from the Ann Arbor show...

Note: Brian took these from rather far away (I just had to dance and didn't want to hold the camera!), so the video is pretty bad, but I wanted to include them because the audio is good enough to put on as background while you surf the internet or something.

Photos from February 6, 2009 at Papa Pete's in Kalamazoo, MI...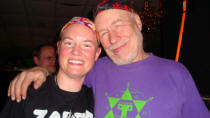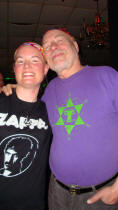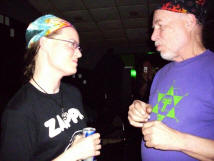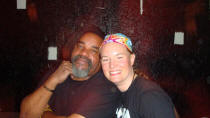 Here I am with Don Preston and Ike Willis. The third photo was a candid shot Layla took of me and Don talking.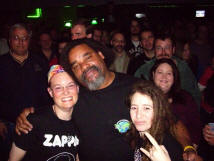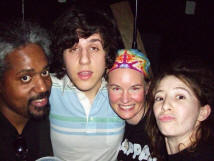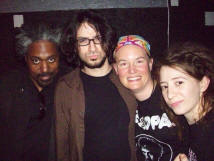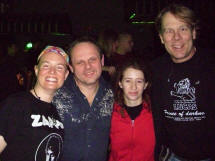 The first photo of me, Ike and Layla was taken by André from onstage. In the second photo is André, Eric Slick, me and Layla. The third photo shows André, Robbie, me and Layla. The last photo shows me, a friend, John Kaminski, Layla, and Eric Svalgard.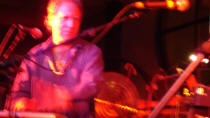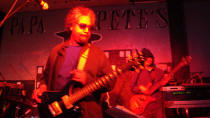 Here are a few of Ed, André and Robbie playing.

Videos from the Kalamazoo show...

Note: I brought Layla Hall with me and she played drums on the "I'm the Slime/Dumb All Over" video posted below...

Summer Tour 2009 Never has there been a summer tour in the seven years I've been seeing these guys---it's always spring, fall or winter. Even Ike commented on how it wasn't snowing outside for these shows. It was perfect weather for all three shows. No rain for the whole trip. Nothing but sun and beautiful clouds. I drove the Music Machine out to see them in Cleveland, OH Pittsburgh, PA and Annapolis, MD on July 5-7, 2009. This time, the Zappa alumni were Don Preston and Ike Willis. I was really happy that Robbie Mangano was on this tour playing bass again---I wasn't sure that he would be since he is involved in a lot of other projects. Then of course, Andr

é

Cholmondeley, Eric Slick, and Eric Svalgard accompanied them. They played a tight new mini-set that consisted of Society Pages, I'm a Beautiful Guy, Beauty Knows No Pain, Charlie's Enormous Mouth, and Any Downers?. Although I've heard these songs played on their own before at various shows over the years, it was nice to hear it in the order in which Zappa performed them at his concerts when those songs were composed. I used to find myself wanting the next song when they would play them randomly.

Videos from the Cleveland, OH show at the Beachland Ballroom on July 5, 2009...

Taken by Brian Beauchene because I was dancing like crazy during this.

Photos from the Pittsburgh, PA show at Club Caf

é

on July 6, 2009...

While it was my first time at the Beachland Ballroom, I have been to Club Café before. As parking is always difficult here, Eric Svalgard came to the rescue and let me have the space where the equipment truck was parked across the street from the venue---what a great guy. Of the cities I've visited in order to see Project Object (which is pretty much the only thing that gets me out on road trips), since I first saw it, I have always felt a connection with Pittsburgh. I can't get enough of driving through the tunnels and over the bridges and looking at the water scenes and all the lights high up. It looks so different than most cities because of all of the buildings at different elevations. I was so glad I could make it out there again---It had been over three years since my last visit.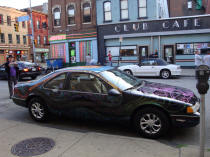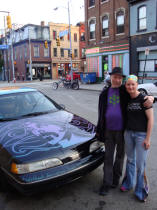 Here I am outside before the show with Don Preston.

Photos from the Annapolis, MD show at the Rams Head On Stage on July 7, 2009...

This was my first time in Maryland, Zappa's home state. Unfortunately, I didn't really get to see any more than what was outside the car windows on the drive in, but the scenery seemed very pretty. This time, when I arrived, the parking space directly outside the venue was super tight---Project Object vehicles were on either side of the space. I first thought about trying to take it, but I am terrible at parallel parking. I parked up a little further up the street and figured I'd ask the guys if they could either move the van back a bit or move the truck forward. Unfortunately, no one seemed to be around that had the keys to either vehicle. A special thanks goes to my friend, James Ross who did an amazing parking job. He has owned three Thunderbirds, so he knows them well. There were only about 8 or 9 inches between the car and the van and truck when he was done. People on the street were saying it was impossible and then they were all surprised when he pulled it off. It was great. Also, my car stayed protected since I knew neither of the Project Object vehicles would harm it like happened in Chicago when I was parallel parked next to random cars and someone hit my bumper and cracked the paint a bit.

The venue was unusual in that as soon as you enter through the doors, an usher leads you to a seat in which they assign. Brian was eating outside at the time the show started, so I entered by myself, unaware of this fact. The usher seated me far to the right of the stage where I couldn't see a whole lot, but the place was packed and there weren't really any other good seats available. After sitting there for the first song or two, I suddenly realized that the spot I was assigned was perfect. There was an area to the right of the stage in front of the dressing room that was completely empty, so it became my dance floor and everything was fine again. I really don't care for sitting down at these shows because they energize me so much.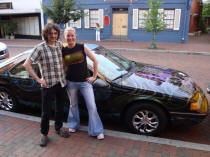 Here I am outside before the show with Robbie Mangano.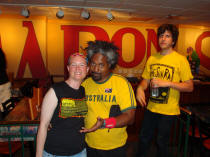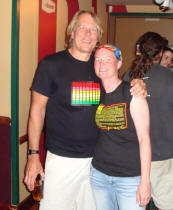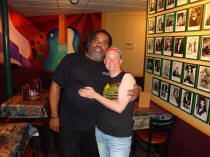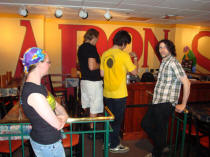 Here I am with André Cholmondeley and Eric Slick, Eric Svalgard and Ike Willis. The last photo is a candid shot that Brian took shortly after the show ended.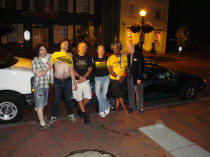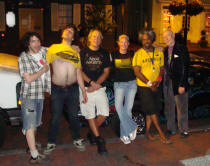 Here I am with Robbie Mangano, Eric Slick, Eric Svalgard, André Cholmondeley and Don Preston just before the guys took off.

Late Winter Tour 2009 (December 31, 2009)

For New Year's Eve, I went out to Mac's Bar in East Lansing, MI to see Project Object perform. This time, Ray White was with them. I've seen him play with Zappa Plays Zappa, but wasn't able to meet him. He is really a very nice, welcoming person and I got to meet and hang out with him for a little bit before the show, thanks to Eric Svalgard taking me and Brian down to the lower level of the venue. I always love seeing the backstage rooms. Every one is unique. Here are a couple photos of me with Ike Willis and Ray White. While I was sitting here, Andre took a quick little video of us (nothing interesting for the regular viewer, but more of a remembrance for me).

Unfortunately, the venue did something really ridiculous---they booked a New Year's techno party on the same date. So at around 11:30 pm, Project Object had to stop playing and allow a techno DJ to take over. What was worse is that the crowd it drew was very rude and inconsiderate. They started arriving at around 10:30 and seemed annoyed that the band was playing. They started smoking even though there were signs clearly posted that said "no smoking". I politely asked one guy near me to stop, pointing out the sign, and the fact that I am allergic to the smoke and expected a non-smoking show, and he refused. Another jerk just stood right in front of me, blocking my view, even though he had no interest in the band. Even though I made some comments that he could clearly hear, he still didn't move until I knocked into him a couple times while I was dancing. Then when the band tried to load out, the people wouldn't move out of the way for people carrying heavy equipment. They were just a bunch of jerks and really made for a lousy end to the evening. We spent midnight in the parking lot by the van.

I did record "City of Tiny Lites", which I was happy about, considering the ZFT caused the removal of my Zappa Plays Zappa Youtube recording of Ray White performing this song.
2007 --- 5 shows
I was able to catch three shows on the fall tour this year. One at the Magic Bag in Ferndale, MI on October 18, 2007 and two at Martyr's in Chicago on October 19-20, 2007. This time, Ike wasn't with them, so André was able to finally do some major soloing. I think the band was the best they've ever been. They also added a new drummer, Josh.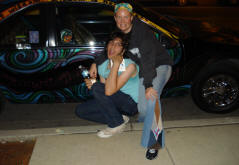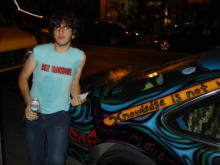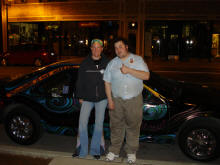 I only took a few photos from the Martyr's show. Here are two pics of Eric Slick being silly and one of me with the new drummer, Josh.
I ended my winter break on a wonderful note this year---I went to Chicago to see 2 Project Object shows at Martyr's on January 5th and 6th, 2007 for their "Staying the Course for Zappa" winter tour. On this tour, there was no Napoleon Murphy Brock because he is currently with Zappa Plays Zappa, although Robbie "Seahag" Mangano was able to join them and play guitar, which is always a nice treat. Once again, Eric Svalgard saved the night and moved the equipment truck across the street so that I could have the prime location in front of the Martyr's window to display the Music Machine. I tried to take a few pictures of the band playing, but they are pretty dark (Photoshop helped lighten them up a bit).
Click here to watch a video from this show I took from onstage. (Be patient, it's a little over 10 minutes long and in excellent quality, so go do something else while you wait.)
Or, you can watch it in fairly decent quality on Youtube (be sure to click the HQ option) below...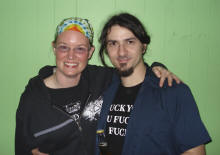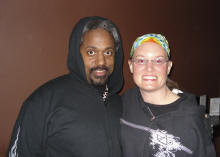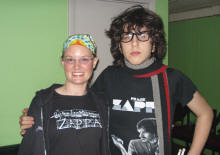 Here I am pictured with Robbie "Seahag" Mangano (guitar), André Cholmondeley (guitar), and Eric Slick (percussion) after the show on January 6th.
This year, I was able to attend four shows: One at Martyr's in Chicago on April 22nd, 2006, one at the Magic Bag in Ferndale, MI on April 24th, 2006, and two at Club Cafe in Pittsburgh, PA on May 12th and 13th, 2006. I took a few photos at each venue.
Martyr's, Chicago, IL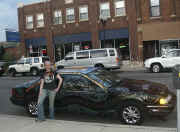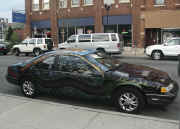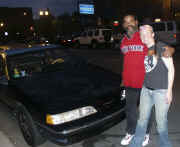 I'm parked across the street from Martyr's. Ike Willis and me about an hour before the show.
Magic Bag, Ferndale, MI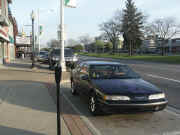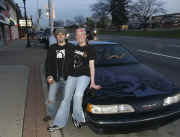 I parked as close to the Magic Bag as I could. If you look closely, you can read "Project Object" on the marquee. Robbie "Seahag" Mangano was able to join this tour for a short time---I was very happy because he's an amazing guitarist. We are pictured above, just before the show started.
Club Café, Pittsburgh, PA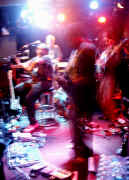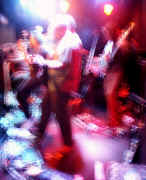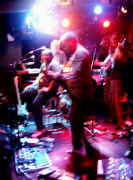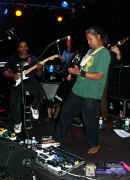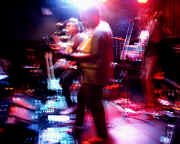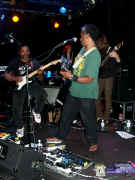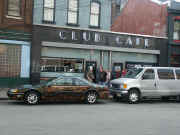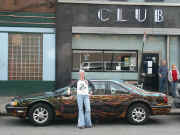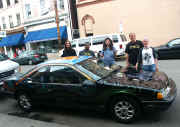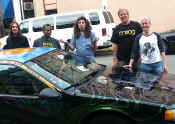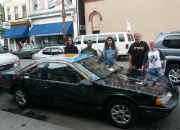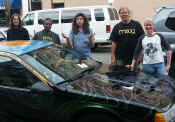 On May 12 and 13, 2006, I saw Pittsburgh for the first time. It took us a little longer to get there than I had hoped. When I first pulled up, it was about 10 minutes until show time, and I was disappointed that all the front parking spots were taken since I had driven the Music Machine all the way there. At intermission, Eric Svalgard surprised me and offered to move the tour van so I could park the car in front. He had to park several blocks away by that time of night. What a nice guy! The second night, I got there early enough to get a spot. The Pittsburgh crowd was very welcoming and seemed glad that I brought the car to share. I am pictured with all of the members of the current P/O line-up except for Ike Willis. From left to right are Dave Johnsen (bass), André Cholmondeley (guitar), Eric Slick (drums), and Eric Svalgard (keys, Moog). Brian also took a few pictures of the band playing. The lighting made it difficult to get photographs, so I made adjustments in Photoshop and posted the results above. I also took some Nature and Wildlife photos while at the hotel.
I was able to see two shows of the spring tour in April 2005---once in Chicago at Martyr's on April 15th and once at the Trolley Stop Bar in Taylor, MI on April 16th. I saw three of the fall tour shows---twice in Chicago at Martyr's on October 21st and 22nd and once at the Magic Bag in Ferndale on October 24th. I also took the Music Machine to these all of these shows. I took some pictures during the spring tour, shown below...
Napoleon Murphy Brock and me next to the Music Machine
Napoleon, me and Ike Willis
2004 --- 3 shows
I was fortunate enough to see three shows for the Fall Tour in October 2004---once at the Magic Bag in Ferndale on October 7th and twice at Martyr's in Chicago on October 9th and 10th. I drove the Music Machine to all three shows which was really a lot of fun. Unfortunately I didn't take any pictures though. At this point, Don Preston was no longer touring with them so I was very glad to have seen the previous shows with Don.
2003 --- 5 shows
They came to the Magic Bag in Ferndale, MI again on March 11, 2003. I also went to Chicago to see them that weekend. Below are some pictures of me with some of the band members at the show at Martyr's in Chicago, IL on March 14 and 15, 2003. It is important to note that all three of them played in Zappa's bands at one time or another.
One of the most exciting things I got to do in the fall of 2003 was take the Music Machine to Chicago to see Project Object for two Martyr's shows on October 24th and 25th. It's interesting, with a car like mine, people either love it or hate it, they get it or they don't. It was so nice to show the car to these guys because I knew they got it and loved it. In fact, after they saw it, every one of them ran back inside to get their cameras. It was crazy---it was like I was the celebrity because they were all taking pictures of me with the car! Unfortunately, my pictures didn't even show the hood because it was dark out. I hope their pictures turned out better. Below are some pictures of me and the band members out by the car as well as a picture of Napoleon with the sax he's had since 1969. The last photo of Brian, Don and me was taken by Andrew Panelli.
2002 --- 2 shows
My first show was at the Magic Bag in Ferndale, MI on March 21, 2002. I saw them again at Docksider's in Erie, PA on October 25, 2002.
Check out my Project Object Setlists!
Before you leave my website, you might also enjoy looking at the following pages:
The Music Machine, the art car I designed and airbrushed, dedicated to Frank.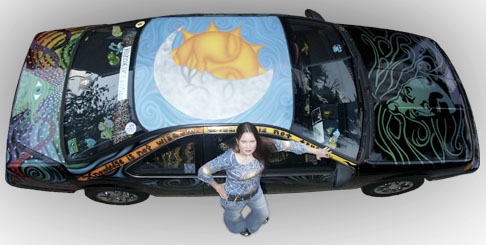 My Frank Zappa T-Shirt Collection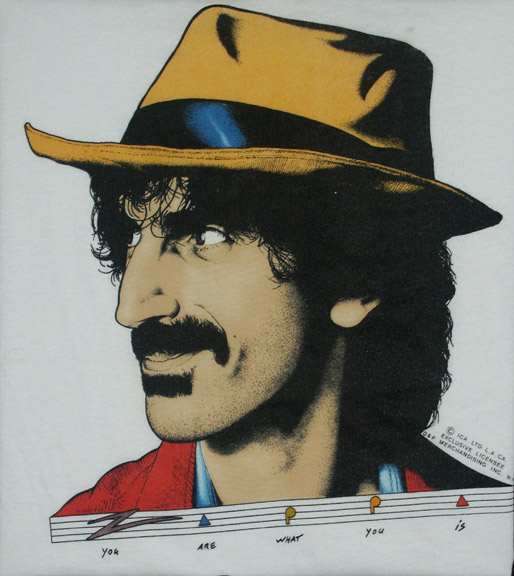 Go to Concert Photos Main Page
[ Project Object ] [ Ugly Radio Rebellion ] [ Ed Palermo Big Band ]
[ George Duke ] [ Zappa Plays Zappa 2006 ] [ Zappa Plays Zappa 2007 ] [ Jean-Luc Ponty ]
[ Joe Satriani ] [ Sonny Landreth ] [ Ozric Tentacles ] [ Chieli Minucci ]
[ Home ] [ Artwork ] [ Photography ] [ Art Cars ] [ Virtual Museum ] [ Pets ] [ Favorite Links ] [ What's New / My Blog ] [ Guestbook ] [ For Sale ]
Copyright © 2007-2012 kozmicdreams.com. All rights reserved.
All materials contained on this site, including text, graphics and icons, are the property of kozmicdreams.com.