My Digital Photography of
Mice and Shrews
Click on any photo to see a larger view!
Northern Short-tailed Shrew, Blarina brevicauda
Photographed October 2, 2013 outside the doorwall getting peanuts to store for the winter. This shrew was so fast that most of my photos were just a blur.
Deer Mice, Peromyscus maniculatus
2014 Deer Mice
Released at the park on March 30, 2014. One little guy still wanted to run on the wheel after I set it on the ground when he could have run free!
2013 Deer Mice
I caught a female mouse in one of the live traps in the basement. Unfortunately, before her release to the wild, she had 4 babies. I decided to wait until they were grown up and release them all together. There was a runt, who unfortunately did not survive. Many of the later photos are of the runt, showing its stunted development, large head and fuzz for fur. The mother eventually didn't want to care for it and that was when I separated it and tried to care for it, hoping it would eventually catch up and be able to be released. The other babies were released along with the mother.
February 20, 2013. Pregnant mother.
February 28, 2013. Babies just born.
March 3, 2013. The runt can be seen in the first photo. It has very scaly skin.
March 6, 3013. The runt.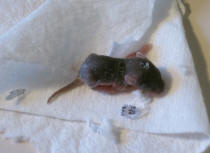 March 16, 3013. Mama nursing babies inside a jar in the cage.
March 19, 2013.
March 20, 2013.
March 21, 2013. The runt.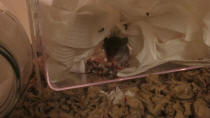 April 7, 2013. The runt.
April 18, 2013. The runt.
April 19, 2013. The runt.
April 23, 2013. The runt's last day. Poor little guy. I was prepared to keep him his whole life if he never got his fur, but he clearly had other developmental problems that prevented him from thriving at all.
2011-2012 Deer Mice
A couple deer mice found their way into my basement. I used the live catch traps and caught them. First, I caught the female and had her for a few weeks before I got her mate. I kept them for a week or so, then released them together into the wild. They were so cute it was definitely tempting to keep them.
Here is a video of the female on August 11, 2011.
Here is the female on August 17, 2011. She not only loved hiding in her new jar, but I also figured this would be a good way to capture and release her later by just putting the lid on while she was resting.
Here she is on September 4, 2011. She never actually used the wheel, but she did like to sit on the middle spindle like this.
Here is the male deer mouse on September 12, 2011. He took over her jar when I put him in the cage. I had to put in another jar for her to use.
Here are both mice getting to know each other through the glass (the female is on the outside) on September 12, 2011.
By September 14, 2011, they were both in the same jar together.
By September 15, 2011, they were snuggling and sleeping together.
Here they are together, napping, on September 18, 2011, shortly before their release. The photos aren't real clear because they were taken through two layers of glass, but you can still see how adorable they are.
On September 18, 2011, at about 5:30 p.m., I released them in an area of brush by Willow creek with a stockpile of peanuts in the jar with them, and a scattering of seeds and nuts all around the area. I left the area before they came out of the jar. I didn't want them to get scared and get separated from one another. I hope they have a nice life together.
Since the mice pictured above were released, many more found their way into my home. I didn't photograph them all, but I did release them in the same area as the other mice. These are mice #10 and 11. These photos were taken on March 8, 2012.
My Pet Deer Mouse from the 1980's
The last time I saw a deer mouse, before the ones in 2011, was the one I caught with a live trap back in the 80's. I kept this guy as a pet for several years. These photos of him were taken in the spring of 1985. Funny, that's the exact same wheel I used for my 2011 mice!
Go to Favorite Photos Main Page
[ Insects, Spiders and Other Tiny Creatures ] [ Frogs ] [ Toads ] [ Turtles ] [ Birds ]
[ Raccoons ] [ Opossums ] [ Groundhogs ] [ Rabbits ] [ Squirrels ] [ Mice ]
[ Trees and Wooded Scenes ] [ Hines Park Maple Tree ] [ Saugatuck Sand Dunes ] [ Croatan National Forest ] [ Wildlife of the Huron River in MI ]
[ Henry Ford Estate ] [ Flowers and Plants ] [ Matthaei Botanical Gardens ] [ Mosses, Fungi and Lichens ]
[ Natural Settings and Wildlife ] [ Skies ] [ Shedd Aquarium ]
[ Concerts ] [ Me ] [ Me with Celebrities, Artists and Musicians ] [ Family and Friends ] [ Paternal Relatives ] [ Family Album ]
[ Detroit Autorama 2004 ] [ Detroit Autorama 2005 ] [ Detroit Autorama 2007 ] [ Detroit Autorama 2008 ]
[ Woodward Cruise 2006 ] [ Woodward Cruise 2008 ] [ Woodward Cruise 2009 ] [ Michigan Avenue Cruise 2008 ]
[ Wintertime and Christmas ] [ Halloween ] [ Cityscapes ] [ Miscellaneous Photography ]
[ Home ] [ Artwork ] [ Photography ] [ Art Cars ] [ Virtual Museum ] [ Pets ] [ Favorite Links ] [ What's New / My Blog ] [ Guestbook ] [ For Sale ]
Copyright © 2007-2012 kozmicdreams.com. All rights reserved.
All materials contained on this site, including text, graphics and icons, are the property of kozmicdreams.com.