My Digital Photography of the Skies
Click here for info about purchasing prints of these photographs.
Click on any photo to see a larger view!
I love rainbows, pretty clouds, sunsets, the moon, the sunlight. Rainbows are numbered as photographed since 2006.
September 5, 2017 (Rainbow #19) Front Yard
6:27 to 6:32 p.m.
July 7, 2017 (Rainbow #18) Front Yard
My parents called me from the parking lot at the grocery store to let me know there was a rainbow. They were viewing it from about 1.5 mi away, where it must have been more prominent. My view was more subtle. Interestingly, I saw a rainbow on this same date last year, 7-7 (and 7 is my lucky #).
June 25, 2017 (Rainbow #17, Double rainbow #6) Back yard
This is the only time I've ever seen a rainbow in the west (from the sun rising in the east). I have only seen them in the east, from a western, setting sun. Unfortunately, there are houses in the wide-angle view, but I wanted to show the whole rainbow, which developed into a double. I didn't make any adjustments to the photos in Photoshop.
The supermoon on November 13, 2016
A day before a full supermoon, November 12, 2016
Nearly full moon on September 16, 2016 about 6 a.m.
The official full moon is not until this evening, but I caught it with a handheld telephoto as it was going down this morning.
September 1, 2016 (Rainbow #16) Front yard
July 7, 2016 (Rainbow #15) Front yard
I looked out the front door and thought it looked like "rainbow weather," but the weird thing was that it wasn't raining. Then suddenly, drops started falling. After about 5 minutes, the rainbow started up! It lasted about 20 minutes and became a double rainbow for part of the time! A few photos were adjusted in Photoshop to show more vibrant colors. It had two extra purple arcs at one point, like I have only seen one other time in my life, at Timberland Swamp (Rainbow #6).
June 20, 2016 "Honey Moon"
A rather rare occurrence of a full moon on the Summer Solstice. These are handheld telephoto shots at the moon's true fullness around 4:10 a.m.
June 6, 2016 (Rainbow #14) Front yard
The best photo, below was adjusted a slight amount in Photoshop.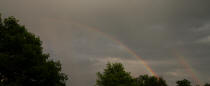 These are unadjusted, in the order taken.
October 28, 2015 (Rainbow #13) Front yard
Adjusted saturation in Photoshop. It was a faint and fleeting one.
September 27, 2015 Blood Supermoon Eclipse
Unfortunately, it was cloudy and the eclipse wasn't visible except for a few moments, which I captured below.
Point Pelee August 11, 2015 (Rainbow #12), shown in two separate halves, the left of which dissipated quickly, while the right side lingered on.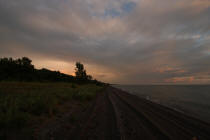 Point Pelee Boardwalk August 11, 2015 (Rainbow #11)
Rainbow shortly before sunset May 18, 2015 (Rainbow #10, Double Rainbow #5). Six years to the day since Darwin died.
Skies near the Hines Maple, August 29, 2014.
Rainbow at sunset June 24, 2014 (Rainbow #9)
I adjusted these two photos in Photoshop. The first one is the middle photo from the previous row.
Interesting clouds on December 29, 2013, Crosswinds Marsh.
September 8, 2013, Stony Creek Metropark. (Rainbow #8)
Rainbow on July 6, 2013 in 3 locations by the roadside near or in Brighton, MI. (Rainbow #7)
Location 1:
Location 2:
Location 3:
Unusual arc in the sky on April 21, 2013, Brighton State Park
Rainbow on September 23, 2012, Timberland Swamp. (Rainbow #6, Double Rainbow #4)
Rainbow with pink sky at sunset on June 21, 2012 (Rainbow #5, Double Rainbow #3)
I have my dad to thank for this one, as he alerted me to its presence by phone (he lives about 1 1/2 miles from me). It was a faint double rainbow at the beginning, but it quickly faded. The whole spectacle only lasted a few minutes, as usual. These photographs were taken at 9:14-9:16 p.m. It's the first time I've photographed a rainbow at sunset with a pinkish sky.
Hail storm on March 14, 2012
Sunset on February 19, 2012
Sunset on January 5, 2012
Double Rainbow on September 11, 2011 at about 6:00 p.m. (Rainbow #4, Double Rainbow #2)
I think these are some of my best rainbow shots ever. I love that there were so many clouds. The other rainbows I've photographed occurred in fairly clear skies. Photos appear in the order taken. This is the second double rainbow I've seen this year. Click here to see the one that happened on July 2, 2011.
Hail Storm on August 13, 2011
100% Waxing Gibbous Moon on July 14, 2011 at about 10:20 p.m.
A couple hand-held shots on a cloudy night.
Backyard Skies with Waxing Gibbous Moon and Beechcraft "Twin Beech" airplane on July 10, 2011 at about 9:00 p.m.
Again, the moon photos turned out fairly well without the use of a tripod. Thanks to Steve Bradley for identifying the plane for me.
Backyard Sunset with Waxing Crescent Moon on July 7, 2011 at 9:20 to 9:24 p.m.
Photos are presented in the order taken. I changed no colors, only brightened a few of the photos. I was surprised how well the moon turned out considering that I wasn't using a tripod. It must be because it wasn't quite dark yet.
Incredible Red Sky on July 2, 2011, 9:24 to 9:30pm
Ok, as if the double rainbow earlier today (posted below) wasn't enough, less than 2 hours later, the sky was bright red! Again, just like the double rainbow, I don't think I've ever seen the sky appear quite this way in my whole life. I did not change the colors on any of these photos. The only adjustments made were to the brightness (some were too dark to make out the clouds). It really was this red! However, by 9:30, the sky was back to a normal gray dusky evening sky. Photos are shown in the order taken.
Double Rainbow on July 2, 2011, 7:39pm (Rainbow #3)
I don't know that I've ever seen a double rainbow before. This one had two complete arches! I happened to be looking out the window, thinking how much I loved days like this, where it was raining, yet still sunny outside. Brian suggested there might be a rainbow. I looked closer and sure enough, there was! I just barely captured it in time because it only lasted for a couple minutes. The top arch is faint, but if you look closely, it is visible especially in the earlier photos.
Backyard Sunset on May 31, 2011
Tonight was something referred to as a "supermoon" because it is the closest the moon has been to the earth in 18 years at 356,577 kilometers (221,566 miles) away. It was supposed to be a bigger and brighter full moon than usual. I took these photos at around 8:50 pm.
Backyard Sunset on January 1, 2011
Wow, what a gorgeous sunset to start off the new year, 1-1-11. I love how these came out. With no photoshop adjustments, the photos look just about how the sky actually looked that day. The last four photos were taken about 15 minutes after the others.
Backyard Sunset on December 27, 2010
Lunar Eclipse on December 21, 2010 (Frank Zappa's birthday and the winter solstice)
These are the first moon photos I've taken with my telephoto lens. I am not very experienced with the settings yet. Unfortunately, during what was supposed to be the peak of the eclipse, a bunch of clouds came in and blocked out the moon completely from view. It was very disappointing not to be able to photograph the anticipated red color shift I was waiting for. This was the first lunar eclipse on the winter solstice since 1638. The next one is in 2094. Photos are shown in the order taken.
About 1:13 am
About 1:32-1:34 am
About 1:50-1:52 am
About 1:54-2:00 am
Backyard Sunset in July, 2010
There is something strange in the first photo---a white spot in the sky. I tried to enlarge it, but it is too grainy to tell what it is. Unusual though.
Backyard Sunset on March 25, 2010
Backyard Sunset on January 15, 2010
As I have come to find, these pinkish clouds do not last long---usually only a few minutes. These photos were taken while I was inside the house looking out the doorwall.
Backyard Sunset on November 13, 2009
This sunset was photographed during the last couple minutes of its existence. I took them while standing inside the house looking out my doorwall into the backyard.
Backyard Sunset on October 13, 2009
This sunset was photographed during the last couple minutes of its existence. I took them while standing inside the house looking out my doorwall into the backyard. I experimented with some different settings. The photos are shown in the order in which they were taken. Also, earlier on this day, I took some photos of a beautiful maple tree in Hines Park.
It reminded me of the background for my Toads of the Short Forest watercolor painting. Click on the picture below to see a larger view and close-ups of certain areas of this watercolor.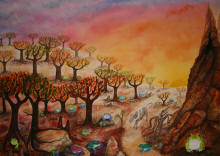 Sun and Clouds on September 25, 2009
I took these photos of the sky from inside of my house while standing in the back door-wall area with the screen door open. Some of them were taken at extremely high shutter speeds and very tiny apertures. I have never seen such a rainbow effect appear before in my photos. It looks like a case of thin-film interference, but I'm not sure what would be the thin film. In order to shoot the high-speed photos, I had to squint and line up the camera until the sunlight beamed through the eyepiece. Then I closed my eyes and took the photo. When I was done with the session, I noticed my vision seemed strange. I narrowed it down to the fact that I was seeing colors completely differently with the left eye (the one that was looking in the eyepiece). I think I might have almost experienced something similar to a person with red/green colorblindness. The green objects (as viewed through my left eye) were more of a yellowish-brown. Red objects were reddish-brown. However, objects that were already reddish-brown seemed more reddish and vibrant. Anyhow, it was pretty strange being able to cover one eye and look at things, then cover the other one and see everything a different color. Next time, I would use a tripod so that I wouldn't have to keep lining up the sun as this can't be good for one's eyes.
Pretty Clouds on June 21, 2009
I took these photos of the sky from my backyard.
Chemtrails on June 12, 2009
Some people claim that chemtrails (chemical trails) don't exist, but I think they are just ignorant. People all over the globe are getting sprayed with things by airplanes on a regular basis. Some things are to control insects, others are to control the weather, and others are still unknown to us. All I know is that from what I've researched about them, I do believe it is happening. A true contrail (condensation trail) dissipates very quickly. You should hardly be able to see the path of the plane once it has flown past. I have seen contrails and I have seen chemtrails. I am pretty convinced what I saw today were two chemtrails. One is white, on the left. The other plane was emitting some black substance for a very long way on the right side. Both planes were flying at the same time and releasing these things. I wonder if they are connected and if the chemicals somehow react in the air. In any case, it's pretty scary stuff---just google "chemtrails" if you don't know what I'm talking about. It is something the public needs to know about and try to put an end to (although this has proven to be very difficult in some cities where the city officials are "in on it"). By the way, I am not a conspiracy theorist. I consider myself a scientist and when what I am seeing does not abide by the rules of science, that sets me off to find out what is going on. I really believe there is something important here.
On May 16, 2008, close to midnight, I took these photos of the moon. The last time I was doing a photo shoot of one of my spiders, "Tufts", I noticed that before I had focused in on her, the door about 20 feet away was perfectly in focus. Then I remembered reading somewhere that in a pinch, one could use their macro lens as a telephoto lens. I decided to give it a try tonight on the moon and was surprised by the results. Although they show a lot more detail in the moon than I've ever photographed before, I am looking forward to the day when I can afford to get a nice telephoto lens. The macro photos are the first ones. The others are taken with a 60mm lens.
Unusual Cloud
I photographed this strange cloud on January 18, 2008 from my backyard.
Rainbow #2
On August 8, 2007, around 8:00 p.m., Brian noticed this rainbow outside. It wasn't nearly as large as the first one, but appeared in almost the same spot as the last one. A few photos are enhanced in Photoshop to show the rainbow more clearly.
Rainbow
It's strange because I was just thinking a few weeks ago how I haven't seen a rainbow in about 4 years, not since the day I was heading home from a camping trip to go to my uncle's funeral. On May 31, 2006, Brian went to a funeral for his friend's father and he called me on the way home to tell me there was a rainbow outside. I quickly got my camera. It was about 7:30p.m. when I took the pictures. By 8:00, the rainbow was gone. A few pictures have some blemishes from water droplets on the lens (it was raining when I took them), but I still thought they looked interesting. I did make some adjustments in Photoshop to enhance the appearance of the rainbow.
The Moon
I hadn't thought to use my camera to photograph any scenes of the sky until 9-18-05, when I saw the moon the day after it was completely full. I wondered if I could digitally capture what I saw. It was necessary to use a tripod, but I was fairly satisfied with the results.
Skies in 1986
I scanned these 35mm 3 1/2 X 5 inch prints that I took in 1986.
Go to Favorite Photos Main Page
[ Insects, Spiders and Other Tiny Creatures ] [ Frogs ] [ Toads ] [ Turtles ] [ Birds ]
[ Raccoons ] [ Opossums ] [ Groundhogs ] [ Rabbits ] [ Squirrels ] [ Mice ]
[ Trees and Wooded Scenes ] [ Hines Park Maple Tree ] [ Saugatuck Sand Dunes ] [ Croatan National Forest ] [ Wildlife of the Huron River in MI ]
[ Henry Ford Estate ] [ Flowers and Plants ] [ Matthaei Botanical Gardens ] [ Mosses, Fungi and Lichens ]
[ Natural Settings and Wildlife ] [ Skies ] [ Shedd Aquarium ]
[ Concerts ] [ Me ] [ Me with Celebrities, Artists and Musicians ] [ Family and Friends ] [ Paternal Relatives ] [ Family Album ]
[ Detroit Autorama 2004 ] [ Detroit Autorama 2005 ] [ Detroit Autorama 2007 ] [ Detroit Autorama 2008 ]
[ Woodward Cruise 2006 ] [ Woodward Cruise 2008 ] [ Woodward Cruise 2009 ] [ Michigan Avenue Cruise 2008 ]
[ Wintertime and Christmas ] [ Halloween ] [ Cityscapes ] [ Miscellaneous Photography ]
[ Home ] [ Artwork ] [ Photography ] [ Art Cars ] [ Virtual Museum ] [ Pets ] [ Favorite Links ] [ What's New / My Blog ] [ Guestbook ] [ For Sale ]
Copyright © 2007-2012 kozmicdreams.com. All rights reserved.
All materials contained on this site, including text, graphics and icons, are the property of kozmicdreams.com.