My Digital Photography of
Squirrels and Chipmunks
Click on any photo to see a larger view!
Click here for info about purchasing prints of these photographs.
Red Squirrels
I saw this squirrel fiddling with something I thought was an egg. I grabbed the camera and took these through the window. I still couldn't quite see what the squirrel had. It finally half-buried it and I went outside to see what it was. To my surprise, it was just an oval rock. It clearly had teeth marks in it. I guess the squirrel must have liked this particular rock for wearing down its teeth and decided to keep it safe.
Marshall Park, March 4, 2017
Backyard, February 18, 2016
Lake Erie, July 19, 2014
This one was just a baby. It was eating something, but I just missed capturing that moment.
This is the cutest, reddest squirrel I've ever seen. He's just a baby, and didn't appear until the end of January 2011. He made snow tunnels all throughout the backyard. I didn't realize how extensive they were until the snow started to melt and they became visible.
February 9, 2011. The entrance/exit of this tunnel is just a few feet from the steps, which is where the peanuts are kept.
February 11, 2011 by the same snow tunnel.
February 16 and 17, 2011. The snow has melted and has made the squirrel's snow tunnel network visible.
Here is a video of him taken on February 17, 2011
Here he is making noise in the neighbor's pine tree on September 22, 2011
Fox Squirrels
Fox Squirrel #8, Lake Erie Metropark, October 7, 2017
Fox Squirrel #7, Holland Ponds, November 1, 2015
Fox Squirrel #6
Some work was being done on my roof and the ladder was against the house for a few days. On July 17, 2013, this squirrel decided one of the rungs was a great place to sprawl out!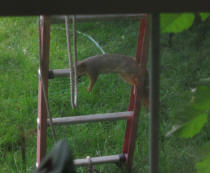 Baby Fox Squirrels
December 19, 2013. Running around in Lansing.
Fox Squirrel #5
This squirrel was very friendly and came right up on the ledge to eat the peanuts, letting me open the doorwall and get up close. I would have taken more photos, but I had to be somewhere and was on my way out. These were taken June 22, 2012.
Fox Squirrel #4
Here is a video of one of the backyard squirrels enjoying my unused Halloween pumpkin on January 26, 2012.
Fox Squirrel #3
This squirrel was photographed eating sunflower seeds in my backyard on June 9, 2011.
Fox Squirrel #2 near The Largest Maple Tree in Hines Park, October 9, 2010
This cute squirrel has a nut in his mouth. He was photographed in a tree near The Largest Maple Tree in Hines Park.
Fox Squirrel #1
There are quite a few squirrels that come on the back steps to eat peanuts, but I usually don't photograph them. Here is one that I did on September 19, 2010.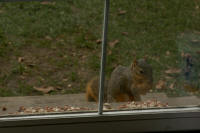 Gray Squirrels
Kensington Metropark, July 2, 2017
Black Gray Squirrels
Heritage Park, Farmington Hills, MI. January 29, 2017
The Garden City, Michigan "A & W" Squirrel
Every time I go to this A & W and sit in the lot to eat around the side of the building, this same black gray squirrel (with a bit of brown undercoat) always walks along the overhead wires. When I was sitting there with Brian on November 8, 2009, I immediately thought of the squirrel and wondered where it was. Just a few minutes later, I saw it in the distance and it started walking on the wires. For a little while, I couldn't tell where it had gone, but then I saw it in what I believe is a bald cypress tree. Apparently, it has a favorite branch that is perfectly horizontal and just right for lounging. I don't think I've ever seen a squirrel just lay down on a branch, but that is exactly what this one did. It looked very relaxed. I happened to have my parents' point-and-shoot camera with me, so I took a few pictures of it (too bad I wasn't toting around my good camera). The last photo was when I got almost to the wall that separates us---it perked up its tail and its eyes opened wide. I decided to head back to the truck at that point so it could continue relaxing on this nice, sunny, 65-degree day.
Possible Hybrid Squirrel
Kensington. March 25, 2018.
This really friendly squirrel had a lot of brown on it for a standard gray squirrel, so it is possible it may be some sort of hybrid.
Chipmunks
Dahlem Conservancy. November 10, 2017
This chipmunk's home was old farm equipment. It was sunning itself in different areas on the equipment.
Kensington Metropark. July 2, 2017
White Lake, MI. April 27, 2014
Fenton, MI. October 26, 2013
Go to Favorite Photos Main Page
[ Insects, Spiders and Other Tiny Creatures ] [ Frogs ] [ Toads ] [ Turtles ] [ Birds ]
[ Raccoons ] [ Opossums ] [ Groundhogs ] [ Rabbits ] [ Squirrels ] [ Mice ]
[ Trees and Wooded Scenes ] [ Hines Park Maple Tree ] [ Saugatuck Sand Dunes ] [ Croatan National Forest ] [ Wildlife of the Huron River in MI ]
[ Henry Ford Estate ] [ Flowers and Plants ] [ Matthaei Botanical Gardens ] [ Mosses, Fungi and Lichens ]
[ Natural Settings and Wildlife ] [ Skies ] [ Shedd Aquarium ]
[ Concerts ] [ Me ] [ Me with Celebrities, Artists and Musicians ] [ Family and Friends ] [ Paternal Relatives ] [ Family Album ]
[ Detroit Autorama 2004 ] [ Detroit Autorama 2005 ] [ Detroit Autorama 2007 ] [ Detroit Autorama 2008 ]
[ Woodward Cruise 2006 ] [ Woodward Cruise 2008 ] [ Woodward Cruise 2009 ] [ Michigan Avenue Cruise 2008 ]
[ Wintertime and Christmas ] [ Halloween ] [ Cityscapes ] [ Miscellaneous Photography ]
[ Home ] [ Artwork ] [ Photography ] [ Art Cars ] [ Virtual Museum ] [ Pets ] [ Favorite Links ] [ What's New / My Blog ] [ Guestbook ] [ For Sale ]
Copyright © 2007-2012 kozmicdreams.com. All rights reserved.
All materials contained on this site, including text, graphics and icons, are the property of kozmicdreams.com.