My Photography of Cityscapes
Click here for info about purchasing prints of these photographs.
Click on any photo to see a larger view!
Vernor's Ginger Ale Mural, Detroit, MI
September 8, 2015
This beautiful Vernor's mural remained well-preserved for years because it was hidden behind another adjacent building that was just demolished last month. I also photographed a party store across the street with interesting architecture, that sadly, was crumbling to bits.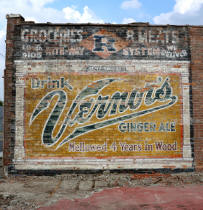 Ann Arbor U of M Campus
April 19, 2015
I'm not exactly sure where this was. It may have been State Street. In any case, it was a beautiful, old beech tree.
St. John's Episcopal Church, 2326 Woodward Ave., Detroit, MI
November 6, 2015
Here, the church was photographed following the Jean-Luc Ponty and Jon Anderson concert at the Detroit Music Hall.
December 16, 2010
Here, the church was photographed from a rooftop parking structure after the Joe Satriani show at the Fillmore Theater. There were no orbs like the last photo of this cathedral.
I have always thought this cathedral on Woodward Avenue in Detroit looked interesting at night, but I have never taken a picture of it. I happened to have my Sony Cybershot camera with me on this evening and I snapped this photo as I was passing by while riding in a car. I didn't have the right setting on for nighttime and it was a spur of the moment thing, so I just took the picture the way it was. I was about to delete it when I saw how terrible it was---totally dark and the cathedral was barely visible. Then I tried adjusting the levels in Photoshop and to my surprise, there were all those orbs! Usually, light interference in a photo is from obvious sources and tends to appear in straight line patterns such as a row of hexagons coming from the direction of the light source, but these are random. The hexagons (or other shapes depending on how your lens is manufactured) are caused by the diaphragm that is allowing only a certain amount of light to enter then lens. I can't really explain what these orbs are here, but they are certainly unusual.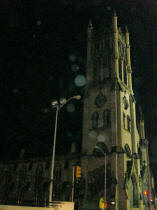 Blimp over the neighborhood on July 16, 2010.
Here are two photos of a blimp that passed over my neighborhood. I had to hurry and put on the telephoto lens and by the time I got outside, I could only catch these two quick shots of it before it was hidden from view behind trees.
Photos from my trip to New Bern, NC in November 2006
My dad and I went on a road trip to pick up a kitchen set I won on E-bay from someone who lived in North Carolina. Before visiting the Croatan National Forest, we decided to check out downtown New Bern. Here is a small park with some interesting artwork as well as an old church and adjoining cemetery.
Go to Favorite Photos Main Page
[ Insects, Spiders and Other Tiny Creatures ] [ Frogs ] [ Toads ] [ Turtles ] [ Birds ]
[ Raccoons ] [ Opossums ] [ Groundhogs ] [ Rabbits ] [ Squirrels ] [ Mice ]
[ Trees and Wooded Scenes ] [ Hines Park Maple Tree ] [ Saugatuck Sand Dunes ] [ Croatan National Forest ] [ Wildlife of the Huron River in MI ]
[ Henry Ford Estate ] [ Flowers and Plants ] [ Matthaei Botanical Gardens ] [ Mosses, Fungi and Lichens ]
[ Natural Settings and Wildlife ] [ Skies ] [ Shedd Aquarium ]
[ Concerts ] [ Me ] [ Me with Celebrities, Artists and Musicians ] [ Family and Friends ] [ Paternal Relatives ] [ Family Album ]
[ Detroit Autorama 2004 ] [ Detroit Autorama 2005 ] [ Detroit Autorama 2007 ] [ Detroit Autorama 2008 ]
[ Woodward Cruise 2006 ] [ Woodward Cruise 2008 ] [ Woodward Cruise 2009 ] [ Michigan Avenue Cruise 2008 ]
[ Wintertime and Christmas ] [ Halloween ] [ Cityscapes ] [ Miscellaneous Photography ]
[ Home ] [ Artwork ] [ Photography ] [ Art Cars ] [ Virtual Museum ] [ Pets ] [ Favorite Links ] [ What's New / My Blog ] [ Guestbook ] [ For Sale ]
Copyright © 2007-2012 kozmicdreams.com. All rights reserved.
All materials contained on this site, including text, graphics and icons, are the property of kozmicdreams.com.