My Photography of the
Croatan National Forest in North Carolina
Click here for info about purchasing prints of these photographs.
Click on any photo to see a larger view!
Photos from my trip to the Croatan National Forest on November 4, 2006
My dad and I went on a road trip to pick up a kitchen set I won on E-bay from someone who lived in North Carolina. I wanted to see what the ecosystem was like in that region, since I had never been there before. After researching on the internet, I discovered the Croatan National Forest and thought it sounded like an interesting place to visit.
The Croatan National Forest is located in the eastern part of North Carolina between New Bern and Emerald Isle, towards the southern end of the North Carolina coast. Its eastern side borders the Neuse River. The coastal forest, saltwater estuaries, bogs, and pocosin all contribute to an ecosystem that has more in common with the Everglades than North Carolina's mountainous forests to the west. The name pocosin refers to an elevated swamp, literally "swamp on a hill". Estuaries are the areas at the lower ends of rivers where fresh water meets salt water and are influenced by tides. 95% of all ocean life either originates in or is dependent upon estuaries. The Croatan Forest is home to the largest collection of carniverous plants in any National Forest and it is near the northern range limit of the American Alligator. It also has an amazing collection of bugs, including mosquitoes and horseflies. Much of the forest is characterized swampy habitat with thick underbrush.
We hiked three different trails near the edges of the forest. We didn't observe a single carnivorous plant or see any alligators. However, on the first trail, we did find many anoles (lizards) and some of the most unusual insects I have ever seen.
Island Creek Forest Walk
We went to the Island Creek Forest Walk first. It is located on the northern end of the forest. The trail was only 1/2 mile long, but showed many different landscapes. Common trees include Loblolly Pine, Yellow Poplar, Dogwood, Black Walnut, Sweetgum, Baldcypress, American Holly, Umbrella Magnolia, Mocketnut Hickory, American Beech, White Oak and Red Oak. Partridge Berry and Christmas Fern are common under-story plants.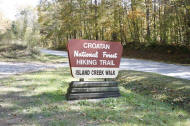 Below are some of the strangest insects I have ever seen, genus Eriosoma. At first, it looked like a branch was full of cottony stuff that was waving in the wind. Upon closer inspection, one could see that attached to each little white tuft was an insect larva. It waved the cottony tuft in a rhythmic fashion---back and forth, back and forth, each one swaying independently of the others. It wasn't until I got home and looked at my photos that I realized that among these things were some adult flies, most likely what these things will turn into. If you look closely, you can see some that appear to be in an intermediate stage of life.
Cedar Point Tideland Trail
We went to Cedar Point next, which is slightly west of the southern part of the Croatan Forest. The Tideland Trail is a 1.3-mile loop trail that travels through estuary, featuring hardwood and pine forest, as well as tidal marsh areas.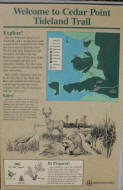 Neusiok Trail
This trail traverses 20 miles of Forest land and crosses several paved and unpaved roads. The trail begins at the low salinity Neuse River estuary, at the Pinecliff Recreation area and traverses sandy beaches, hardwood ridges, cypress-palmetto swamps, pine flat woods, pocosins, and salt marshes before emerging at the high salinity Newport River estuary at Oyster Point, a scant 5 miles from the ocean. We didn't have time to travel too much of this trail. We saw a part near the Neuse River. Then we got to a road and couldn't see where the trail continued, so we walked the road back to the car.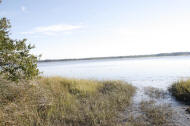 Before we went to the Croatan National Forest, we quickly visited downtown New Bern.
Click here to see my photos of downtown New Bern, NC.
Go to Favorite Photos Main Page
[ Insects, Spiders and Other Tiny Creatures ] [ Frogs ] [ Toads ] [ Turtles ] [ Birds ]
[ Raccoons ] [ Opossums ] [ Groundhogs ] [ Rabbits ] [ Squirrels ] [ Mice ]
[ Trees and Wooded Scenes ] [ Hines Park Maple Tree ] [ Saugatuck Sand Dunes ] [ Croatan National Forest ] [ Wildlife of the Huron River in MI ]
[ Henry Ford Estate ] [ Flowers and Plants ] [ Matthaei Botanical Gardens ] [ Mosses, Fungi and Lichens ]
[ Natural Settings and Wildlife ] [ Skies ] [ Shedd Aquarium ]
[ Concerts ] [ Me ] [ Me with Celebrities, Artists and Musicians ] [ Family and Friends ] [ Paternal Relatives ] [ Family Album ]
[ Detroit Autorama 2004 ] [ Detroit Autorama 2005 ] [ Detroit Autorama 2007 ] [ Detroit Autorama 2008 ]
[ Woodward Cruise 2006 ] [ Woodward Cruise 2008 ] [ Woodward Cruise 2009 ] [ Michigan Avenue Cruise 2008 ]
[ Wintertime and Christmas ] [ Halloween ] [ Cityscapes ] [ Miscellaneous Photography ]
[ Home ] [ Artwork ] [ Photography ] [ Art Cars ] [ Virtual Museum ] [ Pets ] [ Favorite Links ] [ What's New / My Blog ] [ Guestbook ] [ For Sale ]
Copyright © 2007-2012 kozmicdreams.com. All rights reserved.
All materials contained on this site, including text, graphics and icons, are the property of kozmicdreams.com.