My Digital Photography of
Wild Toads
Click here for info about purchasing prints of these photographs.
Click on any photo to see a larger view!
"Mr. Sandman"
August 1, 2016
Here he is near his new sandy hole.
July 28, 2016
About a week ago, I noticed a hole in the middle of one of my moss clumps. Thinking a bird just pulled the clump out, I started filling the hole with sand. It was unreasonably deep, but I filled it up to the top. I came back about 10 minutes later only to find my hole broken up and I saw something move beneath the soil. I reached in, and it was a male toad! I took him out, relocated him, and filled in the hole. Today, to my surprise, there was the hole again, in the same exact moss clump, re-dug! I put my finger in and felt a toad head a couple inches down. Then I watered the garden and he emerged from the hole. It was the same toad, just as I suspected! I took these photos of him coming out. It is very interesting to me how much of a sense of geography toads have, and how they are able to return to their favorite locations. Don, Goldfish Toad, and now, Mr. Sandman have helped me make this realization.
"Red Toad"
July 2, 2016
This time, I photographed this toad in its favorite area, where it can often be found, the "Red Rock" area. You can see how well its skin color matches with a couple of the rocks.
I first saw this toad in the moss garden about a week ago. It is one of the top three reddest toads I have ever seen. The other interesting thing is that it took up residence in the "red rock" area of my moss garden, where I keep my found reddish rocks. This toad matches very well with some of the rocks there, but it seems impossible that it would be aware of its coloration to choose this area, but who knows? Here, it is photographed in a different area, in my succulent garden. There are also photos of this toad with Don the Spadefoot. Click here to see them.
If you're wondering why she is named this, it is because when I first found her in the garden in 2015, the most recognizable marking she had was a spot on the left side of her lower back that looked like a goldfish cracker. I always look for something unique so I can tell if I've found a previous toad.
August 5, 2016
Since her last photo shoot, she was here every day but one. On August 4, 2016, I fed her two worms that were sitting in my hand. She came out from under the rock to eat them right off my hand! She loved being pet afterward too. One of the first things I did every day was check for her and look for worms to feed her. She really brightened my day. Sadly, on today's check, I found her about 3 feet to the left of her rock, dead. I inspected her body and found two puncture marks on her abdomen near her hind legs. An animal must have bitten her in the night. I couldn't bear to look at her empty rock hole, nor have another toad take up residence there, so I made the hole a little deeper, buried her in her favorite spot, and put the rock on top, never to be home to a toad again. She sure was special to me and I will always miss her and think of her every time I look at that rock.
July 28, 2016
Goldfish Toad has been here every day this week. I just wanted to show how much space she takes up under the rock. The first photo shows her underneath the rock, and the second is with the rock removed.
I liked the last photo so much, I decided to make a Google Deepdream image out of it (the 10th image below).
I surprised her with a worm. After eating it, she changed locations and went back to her 2015 spot.
July 13, 2016
July 2, 2016
Here she is under her favorite rock. I put Red Toad on top for the second row of photos so they could be shown together--I usually don't know where both of them are at the same time.
May 28, 2016
This is the second year this toad has taken up residence in my moss garden. What an incredible surprise! This time, she's been hiding underneath Don's favorite rock, that he dug a hole under last year!
July 17, 2015
June 26, 2015
I decided to call this toad "Goldfish Toad" because she has a marking that looks like a goldfish cracker on her back that is easily distinguishable. She has been hiding out in an area I specifically made into a nice, natural toad house with a piece of thick bark covering the top.
Pontiac Lake State Park, June 6, 2015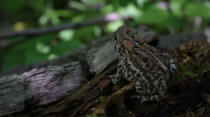 Waterloo, Eddy Discovery Center, September 20, 2014
This was a large docile toad with interesting cream-colored markings on her back.
Huron Meadows Metropark, August 16, 2014
Highland State Park, June 29, 2014
This toad was the largest I've seen since 1999. She was very timid, as you can see.
Pontiac Lake State Park, May 25, 2014
Holly State Park, September 29, 2012
Highland State Park, August 26, 2012
Proud Lake, August 12, 2012
Holliday Nature Preserve, July 4, 2012
Toad enjoying my moss garden on July 12, 2011
I went out to pick boysenberries and to my surprise, at my feet was this toad, nestled in the moss. I was glad to see a toad enjoying my moss garden so much.
Baby Toad in the Woods on July 26, 2008
On July 26, 2008, I was camping in Nelson, OH, thinking what a perfect day it was and how it would top everything off to see a toad. About a half hour later, I spotted this little baby in the dirt road hopping along.
Go to Favorite Photos Main Page
[ Insects, Spiders and Other Tiny Creatures ] [ Frogs ] [ Toads ] [ Turtles ] [ Birds ]
[ Raccoons ] [ Opossums ] [ Groundhogs ] [ Rabbits ] [ Squirrels ] [ Mice ]
[ Trees and Wooded Scenes ] [ Hines Park Maple Tree ] [ Saugatuck Sand Dunes ] [ Croatan National Forest ] [ Wildlife of the Huron River in MI ]
[ Henry Ford Estate ] [ Flowers and Plants ] [ Matthaei Botanical Gardens ] [ Mosses, Fungi and Lichens ]
[ Natural Settings and Wildlife ] [ Skies ] [ Shedd Aquarium ]
[ Concerts ] [ Me ] [ Me with Celebrities, Artists and Musicians ] [ Family and Friends ] [ Paternal Relatives ] [ Family Album ]
[ Detroit Autorama 2004 ] [ Detroit Autorama 2005 ] [ Detroit Autorama 2007 ] [ Detroit Autorama 2008 ]
[ Woodward Cruise 2006 ] [ Woodward Cruise 2008 ] [ Woodward Cruise 2009 ] [ Michigan Avenue Cruise 2008 ]
[ Wintertime and Christmas ] [ Halloween ] [ Cityscapes ] [ Miscellaneous Photography ]
[ Home ] [ Artwork ] [ Photography ] [ Art Cars ] [ Virtual Museum ] [ Pets ] [ Favorite Links ] [ What's New / My Blog ] [ Guestbook ] [ For Sale ]
Copyright © 2007-2012 kozmicdreams.com. All rights reserved.
All materials contained on this site, including text, graphics and icons, are the property of kozmicdreams.com.