Don Preston* the Couch's Spadefoot
Scaphiopus couchii**
*This particular toad is named after one of my friends, the musician and artist, Don Preston.
**The epithet couchii is in honor of American naturalist Darius Nash Couch, who collected the first specimen while on a personal expedition to northern Mexico to collect plant, mineral and animal specimens for the Smithsonian Institution.
Don's Valentine's Day shoot.
Don's Holiday shoot.
October 26, 2017
Don's Halloween shoot.
I decided to photograph Don again today on Coon Skull Hill, about an hour before sunset. It was partly cloudy, with the sunshine fading in and out. Some of the sunlit shots really turned out nice.
September 20, 2017
Don was getting some exercise near Coon Skull Hill, when suddenly, a medium-sized male toad that I haven't seen since spring, jumped over to him to say hello. I captured their brief encounter. The last photo is for identification purposes. I hope to see this guy again someday.
Don has been fattening up---he looks great! Here he is in the succulent garden.
Here he is in on "Coon Skull Hill."
Don soaked in the sun, shed his skin, and ate 11 crickets!!! He even let me assist him with six crickets which he's never done before (I led the crickets near him with my hand, which was unusual because he usually pays attention only to my hand and not the crickets). He had a total of 26 crickets this past week, which has to be a record. He's definitely feeling great now that summer's almost here. He weighs in at 51.5g. I've had him over 10 years now, and he is at least 12 years old, four years past the average lifespan of a spadefoot.
Don shed his skin yesterday and is looking his best. He is photographed in the moss garden, many photos from the sandy area with raccoon skulls and bones, "Coon Skull Hill."
March 8, 2017
Don has done well this winter, eating most of the times I've taken him out (which is once or twice a week, preferably on sunny days). He is still weighing in around 50 grams. Here he is soaking in his dish, enjoying some sun. He did get to hop around outside on an unusually warm February day. He is anxious to get outside again.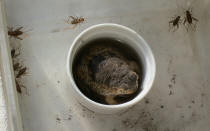 October 2, 2016
It was a beautiful 70-degree day, one of the last we'll see this year, so Don enjoyed some time in the succulent garden. He shed his skin today and was looking great.
August 18, 2016
I always take photos of Don at his best, when he is free of disease, but this is not an accurate representation of his normal life. I thought it was time to show Don at his worst, when he is battling the skin fungus that seems to afflict him all over again every time he is clear. It is the same fungus that Frank got, but I freaked out and gave him pharmaceutical drugs from the veterinarian that killed him. I am hoping that someone else keeping one of these amphibians will see these photos and recognize the fungus and not seek help, as I did. There is no need to seek help, as I have discovered. Don has this fungus all the time, and as soon as he sheds his skin, he is beautiful white and bright green, with no sign of the fungus. I have come to believe that it is caused by the more humid Michigan environment. It is not a deadly fungus and does not require treatment, even though it looks terrible. I do think it may affect water absorption, so it is important to provide soaking dishes for the spadefoot while suffering from this condition.
Dirty Don! I usually photograph him all cleaned up, but here he is right fresh out of the soil, in the snakeskin liverwort area of the garden. He set a record today for his heaviest weight---55.1 grams! He is at least 11 years old and doing great.
July 20, 2016
Don with his girlfriend, Goldfish Toad. Click here to see more photos of her.
July 7, 2016
Don enjoying the succulent garden. It is interesting to note that when he is wandering around in this garden, he is not in any hurry, and often just settles down. This is contrary to his behavior in the moss garden, where he is constantly on the move.
June 19, 2015
Here is Don with his new wild buddy, a very reddish toad. Click here for more photos of the red toad.
June 15, 2016
Here is Don enjoying the succulent garden.
April 18, 2016
It was finally warm enough for Don to hop around the moss garden outside.
December 27, 2015
Don's New Year photo shoot.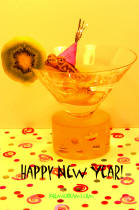 November 6, 2015
This is just a typical sunny afternoon showing Don soaking indoors in his favorite dish after eating.
November 3, 2015
One of the last days warm enough to hop around outside. Photographed on my ice plant.
September 30, 2015 on fungus
September 9, 2015 in the Moss Garden
August 6, 2015 digging in Moss Garden by favorite rock
July 17, 2015 with his wild female friend, "Goldfish Toad"
June 26, 2015 with his wild female friend, "Goldfish Toad"
June 18, 2015 with his wild female friend, "Goldfish Toad"
May 15, 2015 in Moss Garden
May 4, 2015 on fungus
April 13, 2015
April 12, 2015
March 30, 2015
August 21, 2014
September 3, 2013
October 4, 2011
Here is Don, photographed outside. Thankfully, he is still doing great---I've had him for nearly 4 1/2 years now.
I thought it was neat that the reflection in Don's eye in the first photo shows me taking the picture along with the background behind me.
Here is Don with Right Hand Man.
September 3, 2010
Behind him is Triangle Toad and an unnamed toad on top of her head.
August 8, 2010
I recorded a couple videos of Don burying himself...
May 21, 2010
I found Don resting with Triangle Toad, a toad I kept from my toad studies at my old house. Also pictured is Right Hand Man, from my new toad studies.
December 22, 2009
Here is Don after I dug him up. He had been buried for about 4 months and I was getting worried about him.
May 29, 2009
Here are a few videos of Don croaking.
November 24, 2007
Prior Spadefoots
I purchased my first Couch's spadefoot at a local pet store in the summer of 2001. His name was Frank. He has since passed on, but he will never be forgotten.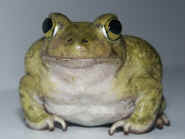 Click here to read about Frank the Spadefoot and see photographs of him or click on his photo above.
I got four more in May 2007. Don was one of them---he's on the bottom right. Sadly, the other ones have passed on.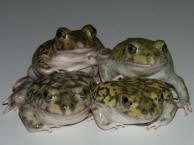 Click here to read about the four spadefoots pictured above and see photographs of them, or click on their photo above.
[ Darwin, the Amazing Border Collie's Photos and Stories ] [ Darwin's Videos ] [ Darwin's Experience with Tick Paralysis ]
[ Dogs of the Past ] [ African Clawed Frog Development ] [ Twista the Dancing Clawed Frog ]
[ Frank the Spadefoot ] [ Other Spadefoots ]
[ Pet Toads ] [ Wild Detroit Toads ] [ Wild Metro-Detroit Toads ]
[ Past Fish and Other Pets of the Past ] [ Pepper Loach ] [ Box Tortoises ]
[ Caring for Abandoned Sparrow ] [ Beatrice the Mallard Duck ]
[ Biglegs the Jumping Spider ] [ Tufts and Mr. Greenfangs ] [ Radinka the Platycryptus undatus ] [ Caring for Jumping Spiders ]
[ Home ] [ Artwork ] [ Photography ] [ Art Cars ] [ Virtual Museum ] [ Pets ] [ Favorite Links ] [ What's New / My Blog ] [ Guestbook ] [ For Sale ]
Copyright © 2007-2012 kozmicdreams.com. All rights reserved.
All materials contained on this site, including text, graphics and icons, are the property of kozmicdreams.com.