My Photography of
Wildlife on the Huron River in Southeast Michigan
I have loved canoeing since I was very young. I used to try to go at least once per summer, but haven't been since 2006. In 2005 and 2006, I was so pressed for free time, I ended up going on the very last day of my summer vacation. It is such a relaxing time before returning to the hectic life of teaching. I have always taken disposable cameras with me in the past, but am never satisfied with any of the pictures. The last two times, I took the risk and brought my digital camera. I was glad I did because I was able to capture much of my amazing time to share with you. If you enjoy animals and nature, you might also like my photographs of Insects and Spiders and the Saugatuck Dunes and other Wooded Scenes.
Click here for info about purchasing prints of these photographs.
Click on any photo to see a larger view!
Digital photography from my canoe trip on 8-29-06.
Great Blue Herons
One was a very close encounter. Unfortunately, our canoe couldn't get any closer because the plants were so thick. The ninth photo below captured a long stream of excrement---it's quite funny.
Ducks and Other Small Birds
Swans
Flowers
Tree Roots
The first two photos were taken on the way out. The rest were taken on the way back.
"Wavy Tree" (compare with last year)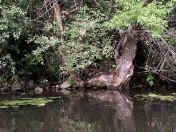 Chrysemys picta picta (Eastern Painted Turtles) sunning themselves
We saw 51 turtles in 2 hours this year.
Landscapes and Bridge
Moths and Orb-Weaving Spider underneath a bridge
Digital photography from my canoe trip on 8-24-05.
Great Blue Heron
I had the closest encounter ever with a blue heron and was able to get about 10 feet from this particular bird. I couldn't believe it. I took a movie of it walking, but unfortunately it was shot sideways. Click here to see my movie of a great blue heron wading through water.
Flowers and Grasses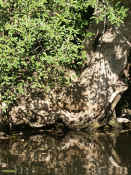 Bird flock in a tree (possibly cedar waxwings), Mallard Ducks (one with ducklings), a Swan and an Egret.
I worry about the mother with three ducklings because they are so young and it is late in the season. They may not be able to fly south for the winter. The egret was beautiful and I got many shots of it flying. It was difficult to get close though because it was such a timid bird. We also encountered three mallards doing something I've never seen before and I got it on video---Click here to see a video of ducks jumping out of the water to get berries.
Two Large Bullfrogs
I was also able to photograph some friendly frogs that did not try to hide when I approached. They were sitting about 8 feet from one another.
Chrysemys picta picta (Eastern Painted Turtles) sunning themselves
The turtles were very difficult to photograph because they dove into the water as soon as I was close enough, but I still included pictures of them, although they may be slightly out of focus. We saw 21 turtles on a 2-hour one-way trip. Last year, we counted 47 on the same route.
Go to Favorite Photos Main Page
[ Insects, Spiders and Other Tiny Creatures ] [ Frogs ] [ Toads ] [ Turtles ] [ Birds ]
[ Raccoons ] [ Opossums ] [ Groundhogs ] [ Rabbits ] [ Squirrels ] [ Mice ]
[ Trees and Wooded Scenes ] [ Hines Park Maple Tree ] [ Saugatuck Sand Dunes ] [ Croatan National Forest ] [ Wildlife of the Huron River in MI ]
[ Henry Ford Estate ] [ Flowers and Plants ] [ Matthaei Botanical Gardens ] [ Mosses, Fungi and Lichens ]
[ Natural Settings and Wildlife ] [ Skies ] [ Shedd Aquarium ]
[ Concerts ] [ Me ] [ Me with Celebrities, Artists and Musicians ] [ Family and Friends ] [ Paternal Relatives ] [ Family Album ]
[ Detroit Autorama 2004 ] [ Detroit Autorama 2005 ] [ Detroit Autorama 2007 ] [ Detroit Autorama 2008 ]
[ Woodward Cruise 2006 ] [ Woodward Cruise 2008 ] [ Woodward Cruise 2009 ] [ Michigan Avenue Cruise 2008 ]
[ Wintertime and Christmas ] [ Halloween ] [ Cityscapes ] [ Miscellaneous Photography ]
[ Home ] [ Artwork ] [ Photography ] [ Art Cars ] [ Virtual Museum ] [ Pets ] [ Favorite Links ] [ What's New / My Blog ] [ Guestbook ] [ For Sale ]
Copyright © 2007-2012 kozmicdreams.com. All rights reserved.
All materials contained on this site, including text, graphics and icons, are the property of kozmicdreams.com.