My Digital Photography of
Frogs
Click here for info about purchasing prints of these photographs.
Click on any photo to see a larger view!
Frogs and toads singing at the local neighborhood pond
I couldn't actually get to the pond because it is on private property, but I recorded the sounds coming from the pond. It was March 14, 2012, and they started last week, so they are a bit early this year.
Frog found in backyard on October 11, 2009
Brian found this frog on a 45 degree day while mowing the lawn. It was very disoriented from the cold. It needed to be near water so it could hibernate. After taking the photographs below, I released it closer to a nearby creek, hoping it will find its way and survive the winter. I took the photos outside in my moss garden. A few were taken with my older Minolta camera.
Henry Ford Estate Frogs, July 14, 2009
The Henry Ford Estate in Dearborn, MI is always a great place to find good creatures to photograph. I went there with my friends Layla and Michelle, intending to photograph insects on flowers, mostly bees, but actually ended up hanging out by a pond for about an hour, photographing the frogs. At one point, all of the frogs in the pond went into a chorus like I have never heard in my entire life. Unfortunately, I was only able to hear it for about a minute and a half before a large group of very disrespectful biology students (who were so ignorant that they questioned each other on what was making the sounds at the pond and no one knew) ruined the whole experience by being incredibly loud, as if they were at a drunken frat party. It was very upsetting and I spoke my mind to one of them as he was leaving and had the nerve to ask me what it was I was finding so interesting at the pond. After we waited about another 1/2 hour, sadly, the frogs still never started up again. I did get some great macro shots of them, which I wasn't sure was possible because some were rather far away.
Frogs on the Huron River in Southeastern MI on August 24, 2005
Click here for more photos from this canoe trip.
Frog at the Saugatuck Dunes in MI on July 24, 2004
Click here for more photos from this hike.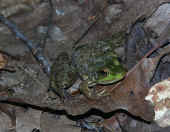 Go to Favorite Photos Main Page
[ Insects, Spiders and Other Tiny Creatures ] [ Frogs ] [ Toads ] [ Turtles ] [ Birds ]
[ Raccoons ] [ Opossums ] [ Groundhogs ] [ Rabbits ] [ Squirrels ] [ Mice ]
[ Trees and Wooded Scenes ] [ Hines Park Maple Tree ] [ Saugatuck Sand Dunes ] [ Croatan National Forest ] [ Wildlife of the Huron River in MI ]
[ Henry Ford Estate ] [ Flowers and Plants ] [ Matthaei Botanical Gardens ] [ Mosses, Fungi and Lichens ]
[ Natural Settings and Wildlife ] [ Skies ] [ Shedd Aquarium ]
[ Concerts ] [ Me ] [ Me with Celebrities, Artists and Musicians ] [ Family and Friends ] [ Paternal Relatives ] [ Family Album ]
[ Detroit Autorama 2004 ] [ Detroit Autorama 2005 ] [ Detroit Autorama 2007 ] [ Detroit Autorama 2008 ]
[ Woodward Cruise 2006 ] [ Woodward Cruise 2008 ] [ Woodward Cruise 2009 ] [ Michigan Avenue Cruise 2008 ]
[ Wintertime and Christmas ] [ Halloween ] [ Cityscapes ] [ Miscellaneous Photography ]
[ Home ] [ Artwork ] [ Photography ] [ Art Cars ] [ Virtual Museum ] [ Pets ] [ Favorite Links ] [ What's New / My Blog ] [ Guestbook ] [ For Sale ]
Copyright © 2007-2012 kozmicdreams.com. All rights reserved.
All materials contained on this site, including text, graphics and icons, are the property of kozmicdreams.com.