My Digital Photography of Flowers and Plants
This subject matter is a bit easier to work with than most living things I choose to photograph. At least they don't move on their own! I love the way you can see so much detail, like the little pollen grains on the stamens. If you enjoy animals and nature, you might also like my photographs of Insects and Spiders, Saugatuck Dunes and other Wooded Scenes, and Wildlife on the Huron River. There are also pictures of some unique animals on my Pets Page.
Click here for info about purchasing prints of these photographs.
Click on any photo to see a larger view!
2013 Photography
Unknown flowers, August 31, 2013
Sharon Twp., MI
2012 Photography
Orchids, March 2, 2012
Here are a few photos of my orchids. The white one on the left in the corner has been alive since 2008. The others are from spring 2011.
2011 Photography
Dandelion, April 29, 2011
Look at the crazy stalk on this dandelion that Brian found in the yard.
2010 Photography
Hibiscus, August 18, 2010
This huge hibiscus was photographed at my parents' house.
Night-blooming flower, August 11, 2010 (taken at night)
This was a weed growing by the birdbath in the backyard. It wasn't like any weed I'd seen before so we decided to let it grow and see what the flowers looked like. It turned out, they were awesome! This is the only plant I've ever personally observed to bloom at night! During the day, it is all closed up and one would think it was nothing special, but as soon as it gets dark, the pretty yellow flowers bloom. I would have never known this except that we have an outdoor light so we can watch the raccoons and other nocturnal animals. One night I was surprised to see the flowers out there.
Phlox and Rose, July 13, 2010
I photographed these flowers after it rained. The phlox photos aren't all in focus, but the interesting thing about them is that it was a certain stalk that had mutated. It wasn't purple like the others, but had white parts within the flower as well. There was only one stalk like this out of probably 30 or 40. The rose was just planted this year. It is bright yellow-orange with darker tips. I discovered a tiny leaf-hopper on the rose after I examined the photographs.
Butterfly bush flowers and shadow, July 7, 2010
This photo was actually an accident, taken while I was doing a photo shoot of Spider #48, but I decided to keep it since it looked interesting.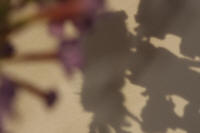 Wisteria Tree, May 31, 2010
I've had this wisteria tree for a couple years now. This is the most I've seen it flower.
Unusual Plant, February 10, 2010
Two stalks of this unusual plant were in a floral arrangement I received. Of course, I had to photograph them. I have not had the time to identify them yet. I'm also not sure what the purple stalk is that appears in two of the photos.
2009 Photography
Hoya Plant's Flowers, August 31, 2009
This plant belongs to my parents. They have had it for years and it only recently started to flower. I took a cutting from it in hopes that I can grow my own. These flowers smell nice and look almost fake. They are like little fuzzy stars. They hang down from the plant instead of most flowers that grow upward. I took some photos with a flash and some without. The ones without a flash show the transparent nature of the flowers. The solid pink ones are flowers that have not quite fully developed yet. I photographed it outside---while I was out there, a hummingbird came right up to it but got scared off when it saw me.
Wild Cucumber, August 25, 2009
I think this year's vine looks like a dinosaur. I didn't photograph last year's, but you can click here to see the 2007 vine.
Coreopsis, July 15, 2009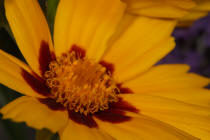 Roses, Hibiscus, and Clematis at my parents' house, June 27, 2009
Columbine, June 22, 2009
These flowers were transplanted from my previous residence the spring of 2008. I couldn't believe how much they'd flourished after only living here one season before. They had darker purple flowers than ever. Some kind of all-yellow type emerged as well. I wonder if it could have been some type of cross between the purple-edged ones and the other white ones with yellow centers as seen in my previous columbine shoot from 2005.
Sweet Williams, June 22, 2009 (except for the last photo which is from 9-13-09)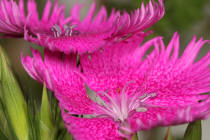 Orchid, March 14, 2009
This is the third time I have witnessed the blooming of this orchid. This time, it grew a separate stalk from the bottom that had two flowers on it, while the other stalk connected to the main stem supported six blossoms. I also photographed two special spiders on this orchid. Click here to see the blooms from last year. Click here to see Radinka's photo shoot. Click here to see spider #38's.
2008 Photography
Christmas Cactus Flowers, December 13, 2008
Click here to see two jumping spiders photographed on this cactus. Click here to see a different species of jumping spider (my pet "Radinka") on this cactus.
Wind-carried Seed, September 6, 2008
Coreopsis, July 30, 2008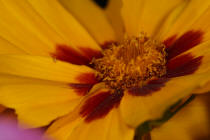 Coreopsis and Butterfly Bush Close-ups, July 14, 2008
Lily, Yucca and Rose, July 5, 2008
Sweet Pea, June 17, 2008
Coreopsis, June 14, 2008
There is only one photo because I was actually warming up to take some insect and spider photos on this flower. Click the names of the creatures below to see them photographed on coreopsis flowers.
Baby Jumping Spiders Ladybug Firefly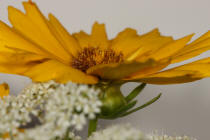 When I was 8 years old, I gave a prayer plant to my grandma for her birthday one year. She kept it alive for many years. When she had to go into assisted living 6-7 years ago, she gave me the plant back. It is now about 25 years old!!! It is my favorite houseplant. Each day, it opens with the sun and closes its leaves up at night (hence the name prayer plant). I also love how it changes with the seasons. Each winter, most of its leaves become dry and brownish and dead-looking. In springtime, brand new leaves come up from the soil in tightly rolled tubes that uncurl, revealing a fresh, new leaf. I love watching all the tubes sprouting up. After it gets its new leaves for the season, it flowers. Each flower is tiny, with the largest petal measuring a mere 3/8" long! I don't have any photos of the whole plant because I was using my macro lens at the time to photograph a mayfly on its flowers.
Flowering Crab Tree, May 5 and 6, 2008
On May 5th, I decided to take some photos of the flowering crab tree in front of my home, this time in the dark with a flash. The first set of cool-toned photos are from my Minolta D'Image 7Hi. The second set are from a Sony DSC-W55 (this one has better focusing capability in the dark with its infrared sensor).
On May 6th, I photographed the tree again in the daylight with the Minolta.
I gave this orchid to my grandmother for her birthday last year, but she told me to keep it instead. I have never owned an orchid before, but I read about its care and hoped that it would bloom again the following year. It did! I took a few pictures here, but I was more interested in using it as a backdrop for photographing a couple of my favorite jumping spiders, Mr. Greenfangs and Tufts. Click here to see Tufts on the orchid. Click here to see Mr. Greenfangs.
2007 Photography
2005 Photography
Columbine flowers of two varieties, May 2005
Gladiola, May 2005
Clematis flower, 9-7-05
Flowering Thistle, 2005
Lilypad flower, 2005 (also pictured on Wildlife on the Huron River Page)
2003-2004 Photography
Hibiscus flowers, 2003
Extreme Close-up of flowering thistle, 2004
Toad lily, 2004
Center of a zinnia, 2004
Go to Favorite Photos Main Page
[ Insects, Spiders and Other Tiny Creatures ] [ Frogs ] [ Toads ] [ Turtles ] [ Birds ]
[ Raccoons ] [ Opossums ] [ Groundhogs ] [ Rabbits ] [ Squirrels ] [ Mice ]
[ Trees and Wooded Scenes ] [ Hines Park Maple Tree ] [ Saugatuck Sand Dunes ] [ Croatan National Forest ] [ Wildlife of the Huron River in MI ]
[ Henry Ford Estate ] [ Flowers and Plants ] [ Matthaei Botanical Gardens ] [ Mosses, Fungi and Lichens ]
[ Natural Settings and Wildlife ] [ Skies ] [ Shedd Aquarium ]
[ Concerts ] [ Me ] [ Me with Celebrities, Artists and Musicians ] [ Family and Friends ] [ Paternal Relatives ] [ Family Album ]
[ Detroit Autorama 2004 ] [ Detroit Autorama 2005 ] [ Detroit Autorama 2007 ] [ Detroit Autorama 2008 ]
[ Woodward Cruise 2006 ] [ Woodward Cruise 2008 ] [ Woodward Cruise 2009 ] [ Michigan Avenue Cruise 2008 ]
[ Wintertime and Christmas ] [ Halloween ] [ Cityscapes ] [ Miscellaneous Photography ]
[ Home ] [ Artwork ] [ Photography ] [ Art Cars ] [ Virtual Museum ] [ Pets ] [ Favorite Links ] [ What's New / My Blog ] [ Guestbook ] [ For Sale ]
Copyright © 2007-2012 kozmicdreams.com. All rights reserved.
All materials contained on this site, including text, graphics and icons, are the property of kozmicdreams.com.