My Digital Photography of
Turtles and Tortoises
Click here for info about purchasing prints of these photographs.
Click on any photo to see a larger view!
Map Turtle, Graptemys geographica
Holland Ponds, July 23, 2017
U of M Interpretive Center Trails, June 17, 2017
Blanding's Turtle, Emys blandingii
Highland State Park, April 15, 2017
Kensington Metropark, August 1, 2015
Dauner-Martin Sanctuary, July 11, 2015
Holly State Land, May 18, 2014
Lake Orion, MI, May 14, 2014
This turtle was just about to cross a busy neighborhood road. I moved it to the other side, which had a pond farther onto the property. It was the first one I've handled that was covered in algae.
on road near Brighton State Park, June 13, 2013
Brighton State Park, April 21, 2013
Yankee Springs State Park, June 2, 2012
This turtle was in the middle of Lindsey Road. I moved it to a safer location.
Box Tortoises
I couldn't believe my eyes when I looked down a few feet from the trail near the Devil's Soup Bowl at Yankee Springs State Park on June 2, 2012, and found a box tortoise! I think it is an Eastern Box Tortoise. Definitely a male, judging by his plastron and bright red eyes (that I saw just before he closed up and wouldn't come out again. He was one tough guy---he had bone growth instead of normal shell on the right rear of his shell, indicating a serious injury that removed that part of his shell down to the bone. He also had some concavity and damage to the left side near the middle of his shell.
Eastern Painted Turtles, Chrysemys picta picta
Sterling State Park, May 29, 2017
Preparing to lay eggs.
Proud Lake, June 28, 2015
This turtle was possibly getting ready to lay eggs in a sandy spot right at the edge of the lot by the Garden Road bridge. Its shell was badly damaged, but seemed to have healed well.
Henry Ford Estate, April 2, 2010
Henry Ford Estate, July 14, 2009
The Henry Ford Estate in Dearborn, MI is always a great place to find good creatures to photograph. Although I intended on photographing insects on this day since all I had with me was my macro lens, I ended up photographing mostly frogs at a certain pond, but I also captured these two turtles. One was just a little baby, only about an inch long. Click here to see photos of the frogs I photographed on this day.
Huron River, August 29, 2006
I love canoeing along the Huron River, looking for turtles and other wildlife. Click here to see more photos from this canoe trip.
Huron River, August 24, 2005
Click here to see more photos from this canoe trip.
Common Snapping Turtle, Chelydra serpentina
Maybury State Park. June 9, 2017. I think this is the most algae-covered snapper I've seen.
Waterloo State Recreation Area, Eddy Discovery Center. June 4, 2016. Laying eggs.
This different turtle is first photographed walking, then an hour later it had dug up the grass where I left it, and looked ready to lay eggs, right by the side of the park road.
Waterloo State Recreation Area, Linden Park. June 4, 2016. Laying eggs.
Pinckney State Recreation Area, "Moss Paradise." May 30, 2016. Laying eggs.
Waterloo State Recreation Area, Eddy Discovery Center, May 31, 2013
Hines Drive, July 26, 2009
On July 26, 2009, this turtle was spotted climbing down a hill toward Hines Drive. Having rescued several snappers in the past from busy roadways, I wasn't going to let anything happen to this one either. I knew it should be relocated to a safer place. But before its relocation, of course, I had to take some photographs of it. It wasn't the largest snapper I've ever found, but it was quite big and muscular. I also removed and photographed two leeches from its shell, although I think they had been sucking on it's hind leg area because it had some bloody marks.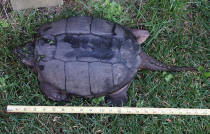 These are the photos of its release into a nearby pond. They are kind of out of focus because there were so many mosquitoes it was unreal. I would have taken more photos if I could, but I already suffered 5 bites for these 6 photos.
Here is a video of the turtle walking...
Click here to see my Pet Tortoises
Go to Favorite Photos Main Page
[ Insects, Spiders and Other Tiny Creatures ] [ Frogs ] [ Toads ] [ Turtles ] [ Birds ]
[ Raccoons ] [ Opossums ] [ Groundhogs ] [ Rabbits ] [ Squirrels ] [ Mice ]
[ Trees and Wooded Scenes ] [ Hines Park Maple Tree ] [ Saugatuck Sand Dunes ] [ Croatan National Forest ] [ Wildlife of the Huron River in MI ]
[ Henry Ford Estate ] [ Flowers and Plants ] [ Matthaei Botanical Gardens ] [ Mosses, Fungi and Lichens ]
[ Natural Settings and Wildlife ] [ Skies ] [ Shedd Aquarium ]
[ Concerts ] [ Me ] [ Me with Celebrities, Artists and Musicians ] [ Family and Friends ] [ Paternal Relatives ] [ Family Album ]
[ Detroit Autorama 2004 ] [ Detroit Autorama 2005 ] [ Detroit Autorama 2007 ] [ Detroit Autorama 2008 ]
[ Woodward Cruise 2006 ] [ Woodward Cruise 2008 ] [ Woodward Cruise 2009 ] [ Michigan Avenue Cruise 2008 ]
[ Wintertime and Christmas ] [ Halloween ] [ Cityscapes ] [ Miscellaneous Photography ]
[ Home ] [ Artwork ] [ Photography ] [ Art Cars ] [ Virtual Museum ] [ Pets ] [ Favorite Links ] [ What's New / My Blog ] [ Guestbook ] [ For Sale ]
Copyright © 2007-2012 kozmicdreams.com. All rights reserved.
All materials contained on this site, including text, graphics and icons, are the property of kozmicdreams.com.