Unfortunately, the photos above were the last to be taken of my buddy, Frank. On January 31, 2007, I wrote the blog entry below: Just when I thought Frank had recovered from his bout with fungus, he is now suffering from something more serious. When I dug him up to feed him on Monday, he was very bloated and having difficulty breathing. On Tuesday, I took him to the vet. The bloating was fluid, not air. It contained rod-shaped bacteria. He is on an antibiotic for the bacteria, which may or may not be effective against this type of bacterial infection. Even if the bacteria can be killed off, it is still not certain whether they are the cause of the bloating. That could be caused by liver, heart or kidney dysfunction. I mixed up a hypertonic ringerís solution using some chemicals from work and a recipe given to me by the vet. It was supposed to help remove the water from his body. I weighed him before and after the treatment and he ended up getting almost 4 grams heavier! So it didnít work. The vet had suggested I take him out of the soil and give him some moss to bury in, but he was so unhappy in that setup, constantly trying to dig. Since these may be his last hours with me, I figured it would be best that he is comfortable, so I went against the advice and put him back in the soil. As soon as I set him down, he was buried within a few minutes. Please keep him in your thoughtsómaybe thereís some slim chance he can make it through this.

Here is the update I wrote on February 4, 2007.

Amazingly, Frank is still alive. I found a way to get the excess water out of him. I know from experience that when he is in very dry soil, he weighs a lot less, so I thoughtówhy not dry out the soil? I baked it in the oven until nearly all the moisture was released. I put Frank in the baked soil after it cooled. He dropped about 14 grams overnight! Since then, I have been monitoring his weight every few hours (while Iím at home and awake) and trying to look for patterns. So far, there arenít any. He has both gained weight and lost weight in the hypertonic ringerís solution (which also contains an antibiotic), while in theory, he should only be losing weight. He has both gained weight and lost weight in the regular ringerís solution, while in theory, he should remain constant. He has both gained and lost weight in his regular soil. The only thing that went according to theory was that he always loses weight in the baked soil. So all I can do is keep giving him his treatments, try to monitor his weight and keep him from getting too bloated, and hope that the antibiotics are working. Iíll write an update if anything has changed from my current treatments.

Here is the update I wrote on February 19, 2007.

While I have managed to slowly decrease Frankís water weight, he is still in very poor health. Over the past week and a half, his lungs have filled with more and more fluid. At times, I have seen him breathing with his mouth open, a sign of suffocation. Because his nostrils were getting covered in soil, I can no longer keep him in his favorite setting, so he is rather uncomfortable now. I have him in a container with a paper towel that is soaked with ringerís solution. Last week, I managed to force feed him a few crickets, but for the past 7 days, he has vomited them up. Today, I am trying worm bits. On try #1, he threw it up after about 15 minutes. I am still waiting to see the results of try #2. He was getting stronger after he ate a few crickets and I was starting to exercise him for about 30-45 minutes each day, but he hasnít been strong enough to walk for the last 3 days now. He hasnít even opened his eyes for 3 days either. Anyone that knows me knows that I wonít give up on him until he is dead. I canít lose hope until there is no more hope to be had. So I will keep trying my best to save him.

At around 3:40 am on February 25, 2007, I had just taken Frank out of his hypertonic ringerís solution that contained the antibiotic. He looked really bad, although I still had hope because he had swallowed a worm down earlier in the day, he had lost a lot of the bloating due to excess water, and I even saw him urinate for the first time in about a month. I was holding him in my hand, as I try to do each day for a little while, and I told him ďFrank, you know I love you, and youíve fought really hard, but if you have to die, then please die with me.Ē I continued to massage his back and legs. He was barely moving. About a minute later, he took a few deep breaths and went limp. I saw his hind legs twitching and I knew he had passed. His exact time of death was 1-25-2007 at 3:43am. I had previously envisioned him dying in my hand. That was how I wanted it to happen. I didnít want him to be all alone. Although it was very sad, I am glad it happened that way and that he was with me. I will miss him tremendously.

Added 11-17-07: I have since realized that it was the medication that killed Frank, not the fungus. The spadefoots I bought in May 2007 have had problems with this same fungus since I got them. At first, I had used some of Frank's medication on them, but then I noticed two yellow spots in their lower back, just like Frank had. When I saw them on Frank, I wasn't sure what to think, but this time, I knew they must be the kidneys and the medication (which was a yellow color) must be staying in the kidneys rather than being filtered out. I stopped using the meds immediately, realizing that it was kidney failure that killed Frank (and that seemed very logical from the symptoms of water-retention difficulties). After about 6 weeks, the fungus disappeared for a while, then reappeared. For the last 6 months it comes and goes, but doesn't seem to harm the spadefoots in any way. If only I would have known, Frank could be here today. I can't believe it is my fault he is gone. Sometimes I guess one should just let nature take its course and not try to use all these man-made concoctions to solve problems like this. Hopefully, my story can help others seeking help for their sick amphibians.

Frank has also been featured in two of my watercolor paintings and I plan to continue painting him in future watercolors.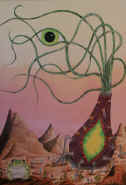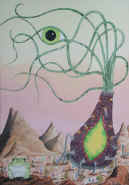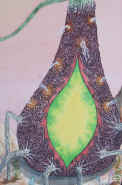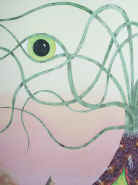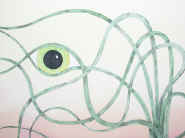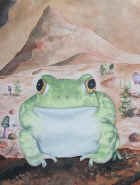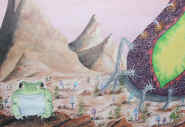 Frog Fantasy Scape III Featuring Frank and the Vegetanimal from Outer Space, 1-4-2006 (first picture taken without a flash shows truest colors, but least clarity)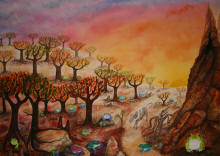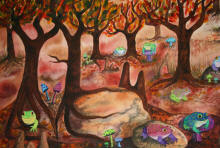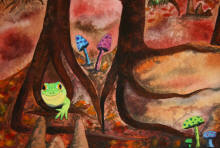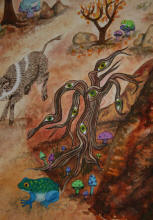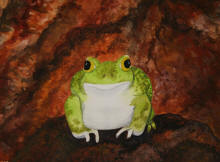 Frank and the Toads of the Short Forest, 1-4-07 This painting is my visual representation of a Frank Zappa song called "Toads of the Short Forest". There are also references to this forest in other songs such as "Camarillo Brillo" and "The Adventures of Greggery Peccary". Upon careful inspection, you will see Greggery, the tiny twisty tree with eyes on it, and of course, Billy the Mountain with the tiny cave at the top of a cliff. Frank sits on the right. Also present by my choice are cypress knees (one of my favorite things) and two trees whose roots intertwine to spell the word "love".