My Pet Toads of the Past and Present
Right Hand Man, June 21, 2008 - May 11, 2012
This toad is #13 from my new toad studies. This is his first photo on the day of capture, June 21, 2008. He lost his left hand due to a yard accident I presume, which is why I decided to keep him.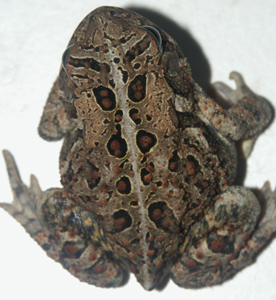 The first two photos below are of a huge 71-gram, 3 1/8" toad that my parents found in their yard. I photographed and as much as I really wanted to keep her, I decided to release her back where she was found. She is pictured with Right Hand Man for the remainder of the photo shoot taken on October 4, 2011.
Here is Right Hand Man on his back---you can see his strange "foot" that regenerated from the stump.
Here is Right Hand Man hanging out with Don the Spadefoot.
On May 11, 2012, Right Hand Man succumbed to an illness. This was the second year he had trouble in the early spring after living through the winter without hibernating. He lost his appetite in the spring of 2011 and had to be force-fed for several weeks until he ate again on his own. The same thing happened in the spring of 2012, but this time, he also had a respiratory infection that caused a lot of mucus buildup. He had trouble breathing. After 8 difficult weeks of force-feeding and seeing only a worsening of his condition, I made the decision to allow him to die (when rehabilitation becomes torture, sometimes that is all one can do, and I could tell he was in pain---I couldn't even touch him without seeing him cringe. It was so sad.). He died 4 days after I stopped force-feeding. I have decided that I will not be keeping any more wild toads as pets. If any more are injured, I will make sure their wounds heal, then they will be released back into the yard, even if they are missing a hand or foot.
Triangle Toad, June 5, 2008 - November 8, 2010
Triangle Toad was a toad I kept from my toad studies at my old house. She was Toad 102 and was first found on June 5, 2008. She lived with Don the Spadefoot and Right Hand Man. She seemed to have a lot of respiratory infections when I found her in the wild many times at the old house, so I decided to take her to the new house in the summer of 2009 and keep her as a pet. She lived very happily for a while, but then later succumbed to some kind of skin disease at the same time I lost two other wild, captive toads.
Here is her first photo on June 5, 2008. The reason she is named Triangle Toad is the triangle shape near her left upper back.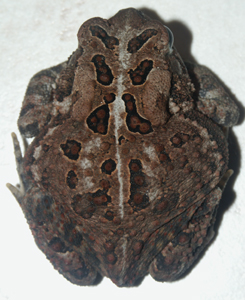 On August 28, 2009, Right Hand Man had Triangle Toad in an amplexus grip today, something I've never seen any wild toads do in captivity.
Here is Don on May 21, 2010, snuggled up with Triangle Toad, Also pictured is Right Hand Man, from my new toad studies.
Here is Don on September 3, 2010. Behind him is Triangle Toad and an unnamed toad on top of her head.
[ Darwin, the Amazing Border Collie's Photos and Stories ] [ Darwin's Videos ] [ Darwin's Experience with Tick Paralysis ]
[ Dogs of the Past ] [ African Clawed Frog Development ] [ Twista the Dancing Clawed Frog ]
[ Frank the Spadefoot ] [ Other Spadefoots ]
[ Pet Toads ] [ Wild Detroit Toads ] [ Wild Metro-Detroit Toads ]
[ Past Fish and Other Pets of the Past ] [ Pepper Loach ] [ Box Tortoises ]
[ Caring for Abandoned Sparrow ] [ Beatrice the Mallard Duck ]
[ Biglegs the Jumping Spider ] [ Tufts and Mr. Greenfangs ] [ Radinka the Platycryptus undatus ] [ Caring for Jumping Spiders ]
[ Home ] [ Artwork ] [ Photography ] [ Art Cars ] [ Virtual Museum ] [ Pets ] [ Favorite Links ] [ What's New / My Blog ] [ Guestbook ] [ For Sale ]
Copyright © 2007-2012 kozmicdreams.com. All rights reserved.
All materials contained on this site, including text, graphics and icons, are the property of kozmicdreams.com.