Twista, the Dancing African Clawed Frog
June 22, 2008 - May 23, 2011
Since Twista was a tadpole, she was always swimming all over the place, completely off-balance. I thought surely this tadpole would die before becoming a frog. However, she didn't, and as a frog, she exhibited this same twisting, turning, twirling behavior. I have never seen anything like it. She lived happily with her daddy, brother and sisters. One could usually pick her out right away because her normal resting position was sideways on her left hind foot. As she grew older, the twist in her spine also became more prominent, but she still got around. After nearly three great years with her, she unexpectedly died.
Photos are in order with most recent at the top.
Click on each thumbnail photograph to see a larger view!
Twista's Last Twirl, April 18, 2011
April 4, 2011
Here is Twista resting on top of Daddy. Her siblings are also pictured.
March 9, 2011
Twista floating at the top.
February 4, 2011
Flattened Twista in the foreground.
December 27, 2010
Twista is on the left. Daddy is trying to embrace his daughter in a mating grip.
December 17, 2010
Sometimes, she amazes me and actually looks very much like an ordinary frog when she is resting on the bottom.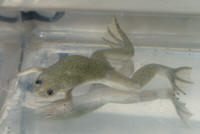 September 4, 2010
Happy days are here again!
Here are some photos of Twista doing her water acrobatics and resting on the bottom on her back.
March 17, 2010
Here she is twirling for joy on St. Patrick's Day...
[ Darwin, the Amazing Border Collie's Photos and Stories ] [ Darwin's Videos ] [ Darwin's Experience with Tick Paralysis ]
[ Dogs of the Past ] [ African Clawed Frog Development ] [ Twista the Dancing Clawed Frog ]
[ Frank the Spadefoot ] [ Other Spadefoots ]
[ Pet Toads ] [ Wild Detroit Toads ] [ Wild Metro-Detroit Toads ]
[ Past Fish and Other Pets of the Past ] [ Pepper Loach ] [ Box Tortoises ]
[ Caring for Abandoned Sparrow ] [ Beatrice the Mallard Duck ]
[ Biglegs the Jumping Spider ] [ Tufts and Mr. Greenfangs ] [ Radinka the Platycryptus undatus ] [ Caring for Jumping Spiders ]
[ Home ] [ Artwork ] [ Photography ] [ Art Cars ] [ Virtual Museum ] [ Pets ] [ Favorite Links ] [ What's New / My Blog ] [ Guestbook ] [ For Sale ]
Copyright © 2007-2012 kozmicdreams.com. All rights reserved.
All materials contained on this site, including text, graphics and icons, are the property of kozmicdreams.com.