Memorabilia from Cypress Knee Attractions
This page is dedicated to memorabilia from various cypress knee attractions in the southern U.S. other than the Tom Gaskins Cypress Knee museum.
Click here to visit my Virtual Tom Gaskins Cypress Knee Museum.
Click on each thumbnail below to see an enlarged view.
Cypress Gardens Postcards and Brochures
Reelfoot Lake Postcards
Fold-out booklet from 1962:
Eagle's Nest, Clearwater-Belleair, FL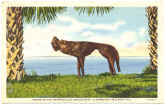 Unused postcard, date unknown (before 1951 since it says on back to use 1-cent stamp) On the back, the postcard states the following: Animal or Vegetable? -This hideous object suggestive of "Cerberus" of ancient Mythology or "The Hound of the Baskervilles" of modern fiction, is an unusual form of vegetable growth occasionally found at the foot of the cypress tree and locally called cypress "knees." -This specimen, blackened by age, which may well be over 200 years was found near Lakeland by an early pioneer---passed on thru several generations to its present ownership. -Note traces of bullet marks in neck indicating that early hunters were deceived by its weird resemblance to some living quadruped. "C.T. Photo-Colorit," made only by Curt Teich & Co., Inc., Chicago, U.S.A.
Visit my Virtual Tom Gaskins Cypress Knee Museum
Go to Cypress Knee and Wood Collection Page
[ Ephemera, Nostalgia and Antiques ] [ Virtual Tom Gaskins Cypress Knee Museum ] [ Cypress Knees and Interesting Wood ]
[ Memorabilia from Other Cypress Knee Attractions ] [ Trilobites ] [ Rocks and Minerals ] [ Other Fossils ]
[ Frank Zappa T-Shirts ] [ My CDs ] [ My DVDs ] [ Tjaps ] [ Hagen-Renaker Figurines ] [ Bottles ]
[ Home ] [ Artwork ] [ Photography ] [ Art Cars ] [ Virtual Museum ] [ Pets ] [ Favorite Links ] [ What's New / My Blog ] [ Guestbook ] [ For Sale ]
Copyright © 2007-2012 kozmicdreams.com. All rights reserved.
All materials contained on this site, including text, graphics and icons, are the property of kozmicdreams.com.