My Frank Zappa T-Shirt Collection
I have 100 shirts in my collection so far. I arranged them below by date, if known. Others are listed at the bottom. If you don't see a picture of the back shown, that means there were no graphics on the back to photograph. While most shirts pictured below are official releases, I don't limit myself to official releases only, as I am attempting to preserve any and all memorabilia from the Zappa era. If you're looking to purchase a Zappa shirt, sorry, none of these are for sale, but good luck in your search!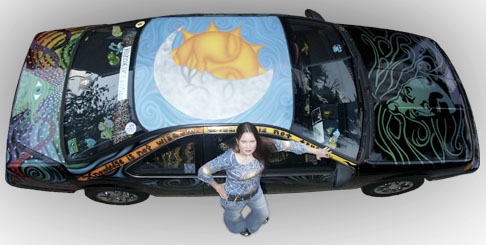 Click on each thumbnail to see the larger view.
Shirts with unknown dates are below. If you can help me label any of them, please e-mail me at kozmicdreams@ymail.com.
I thought I'd also include these three Turtles shirts on this page. Howard Kaylan was their original owner.
You might also enjoy looking at the following pages:
The Music Machine, the art car I designed and airbrushed, dedicated to Frank
My Photography of the Zappa Plays Zappa 2006 Tour plus a few video shorts
My Photography of the Zappa Plays Zappa 2007 Tour plus a couple video shorts
[ Ephemera, Nostalgia and Antiques ] [ Virtual Tom Gaskins Cypress Knee Museum ] [ Cypress Knees and Interesting Wood ]
[ Memorabilia from Other Cypress Knee Attractions ] [ Trilobites ] [ Rocks and Minerals ] [ Other Fossils ]
[ Frank Zappa T-Shirts ] [ My CDs ] [ My DVDs ] [ Tjaps ] [ Hagen-Renaker Figurines ] [ Bottles ]
[ Home ] [ Artwork ] [ Photography ] [ Art Cars ] [ Virtual Museum ] [ Pets ] [ Favorite Links ] [ What's New / My Blog ] [ Guestbook ] [ For Sale ]
Copyright © 2007-2012 kozmicdreams.com. All rights reserved.
All materials contained on this site, including text, graphics and icons, are the property of kozmicdreams.com.