My Tjaps Collection
This is a collection of tjaps (pronounced "chops"), which are a type of copper stamp used in the batik process. They are dipped in melted wax and pressed into fabric. The majority of them are made in Indonesia, which is well-known for beautiful, batiked fabrics. Many tjaps are antiques. The process of soldering small copper strips in place to make a design is extremely tedious. I have not had the chance to try out any of these tjaps yet.
Below are scans and photographs of the tjaps in my collection.
Click on each thumbnail to view a larger image.
One of my favorites---I love how different this can look from every direction...
Antique Tjaps Book
I purchased this antique book from the city of Jogjakarta in the Yogyakarta Special Region of Indonesia, that shows how tjaps are used. It came with the bird and lotus tjaps (2nd and 3rd rows above). I scanned the pages as best I could---it was a bit longer than my scannning surface. It shows the process of using one of these tjaps to create a multi-colored fabric.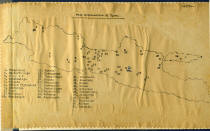 [ Ephemera, Nostalgia and Antiques ] [ Virtual Tom Gaskins Cypress Knee Museum ] [ Cypress Knees and Interesting Wood ]
[ Memorabilia from Other Cypress Knee Attractions ] [ Trilobites ] [ Rocks and Minerals ] [ Other Fossils ]
[ Frank Zappa T-Shirts ] [ My CDs ] [ My DVDs ] [ Tjaps ] [ Hagen-Renaker Figurines ] [ Bottles ]
[ Home ] [ Artwork ] [ Photography ] [ Art Cars ] [ Virtual Museum ] [ Pets ] [ Favorite Links ] [ What's New / My Blog ] [ Guestbook ] [ For Sale ]
Copyright © 2007-2012 kozmicdreams.com. All rights reserved.
All materials contained on this site, including text, graphics and icons, are the property of kozmicdreams.com.