My Digital Photography of
Bumblebees and Carpenter Bees
Click here for info about purchasing prints of these photographs.
Click on any photo to see a larger view!
Bumblebees and carpenter bees are one of my favorite insects to photograph. Many people do not realize the difference between carpenter bees and bumblebees. It is easy to tell if you just look at their abdomens---the carpenter bee has a naked black abdomen and the bumblebee has strips of yellow fuzz. However, they are both especially difficult to photograph because they move from flower to flower so quickly. By the time I focus the lens and frame the image, the bee has moved on to the next flower. My favorites are the bees captured in mid-air.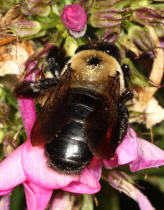 Carpenter bee (2008)
Bumblebees
Bumblebee in my backyard on August 12, 2016
The first bumblebee I've seen in my yard. I just happened to be looking out the doorwall when it landed on a leaf of my ash tree. The first two are non-macro. Since it was still sitting there after those photos, I went back in and assembled the macro equipment and took the others.
Bumblebees at Point Mouillee on July 26, 2014
I was so excited---I saw 3 bumblebees today!!! I haven't seen a bumblebee in 7 years. I thought they had become extinct in MI.
Bumblebee inside columbine flower 5-26-07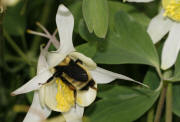 Carpenter Bees
My backyard, August 15, 2013
Henry Ford Estate on July 14, 2009
August 8, 2008
This poor bee is almost dead in these photos. Darwin had just gone outside and didn't make it to the grass to urinate. Instead, he left a puddle on the driveway that this bee must have thought was water. I took it out and tried to revive it with regular water, but it was too late to be saved. I figured I couldn't let it die for nothing, so I took some photographs of it.
My parents' house, August 23, 2008
Carpenter bees gathering pollen and flying 8-4-08
Carpenter bees on butterfly bushes 9-4-06
Carpenter bees on butterfly bushes 8-25-06
Carpenter bee on trumpet-vine flower 8-11-06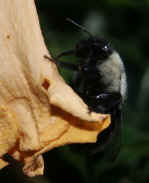 Old Photos of Both Types of Bees
Mid-air Shots of Bumblebees and Carpenter Bees, Summer 2003
The first two shots are bumblebees and the others are carpenter bees.
Carpenter bees on flowering thistle, sunflowers, raspberries and butterfly bushes. Summer 2003
Go to Insects, Spiders and Other Tiny Creatures Main Page
[ Cicadas ] [ Leaf-hoppers ] [ Ant Lions ] [ Praying Mantises ] [ Ants ]
[ Grasshoppers and Crickets ] [ Katydids ] [ Beetles and Other Insects ]
[ Bumblebees and Carpenter Bees ] [ Honeybees ] [ Wasps ] [ Flies and Other Flying Insects ] [ Centipedes and Millipedes ]
[ Moths ] [ Butterflies ] [ Skippers ]
[ Pandora Sphinx Moth ] [ Polyphemus Moth ] [ 5-Spotted Hawk Moth ] [ Anise Swallowtail ]
[ Jumping Spiders Volume 1 ] [ Phidippus jumping Spiders Volume 2 ] [ Phidippus jumping Spiders Volume 3 ] [ Baby Phidippus Jumpers ]
[ Biglegs the Jumping Spider ] [ Tufts & Mr. Greenfangs ]
[ Platycryptus undatus jumping spiders ] [ Platycryptus Babies ] [ Zebra Spiders ] [ Miscellaneous Jumping Spiders ]
[ Orb-Weavers Volume 1 ] [ Orb-Weavers Volume 2 ] [ Baby Orb-weavers ] [ Crab Spiders ] [ Miscellaneous Spiders ] [ Spider Webs ]
[ Home ] [ Artwork ] [ Photography ] [ Art Cars ] [ Virtual Museum ] [ Pets ] [ Favorite Links ] [ What's New / My Blog ] [ Guestbook ] [ For Sale ]
Copyright © 2007-2012 kozmicdreams.com. All rights reserved.
All materials contained on this site, including text, graphics and icons, are the property of kozmicdreams.com.