My Digital Photography of
Moths and their Larvae
The following insects were photographed in the Metro-Detroit area, unless otherwise noted. I have identified them by their scientific names, if known. Photographs are sorted so that most recent photos are at the top of the page.
If you know the name of any unidentified moths, please e-mail me at kozmicdreams@ymail.com. Special thanks to John Maxwell for helping me identify many insects on this page from 2008 and before.
Click here for info about purchasing prints of these photographs.
Click on any photo to see a larger view!
Milkweed Tussock Caterpillar, Euchaetes egle
Kensington, September 17, 2017
Metamora, September 2, 2013
Unknown Hawkmoth
Proud Lake, June 18, 2017
Unknown Moth
Proud Lake, June 18, 2017
Pinckney, MI. June 17, 2012.
Similar to one above, but enough differences to possibly be another species.
Unknown Hornworm
Oak Openings, July 7, 2016
Lyle discovered this caterpillar right by the rear tire of the car and saved its life. I didn't have my macro lens, but I took these photos to at least document it. This was the first time I've ever heard a caterpillar make a hissing sound like this one did.
Hummingbird Moths
Hummingbird Clearwing, Hemaris thysbe
July 7, 2016 on phlox just after a rain and rainbow.
I was photographing an interesting spider on July 22, 2015, in the backyard when along came this moth. This is the first time I have successfully photographed a moth of this species, as they move very quickly and it is very hard to get them focused before they move on.
Snowberry Clearwing, Hemaris diffinus
Kosch Headwaters Preserve, August 2, 2014 (non-macro).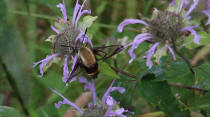 Imperial Moth, Eacles imperialis
On June 17, 2015, I found a large pupa laying at the base of my maple tree in the front of my yard. It measured about 2 ¼" long by ¾" wide. After doing a little research, I determined that it was going to be an imperial moth. I had expected the moth to emerge midsummer, as my research had indicated that it would do. Also, the last time I saw moths of this species, it was July 24, 2004. I set up the pupa is about 2 inches of soil, with another inch and a half or so of leaves on top, in a large plastic terrarium with a lid. I misted the leaf covering with water every day. I hung a piece of cloth on one side for them to climb on and dry its wings. I put it outside so it would be exposed to the normal temperatures in the environment, in a shady spot on my porch. Only one brood of these moths emerges per year, so it was important that it emerged at a time when other imperial moths were also emerging. Unfortunately, I did not get a chance to take photographs of the pupa, because the moth surprised me and emerged only four days later, on June 21, 2015.
When I found it at about eight o'clock at night, it was at the top of the terrarium, hanging out underneath the lid. Fortunately, its wings had dried normally, but it didn't have any energy, and when I removed the moth from the lid, rather than climbing onto my hand, it just flopped around as if it was half dead. It squirted out a bunch of orange-brown liquid, which I had expected would happen after having read about it on the internet. It is just the leftover waste product from the pupal stage. It almost got on the wings of the moth though. It did four separate squirts and I had to hurry up and put clean paper underneath the moth so it wouldn't get the liquid on itself. I took some photographs of the moth, and then I managed to get it to hold onto a piece of paper towel, which I suspended from my light fixture in the kitchen. I took a few photos of its underside while it was hanging.
At around 6 AM, the sun was beginning to rise. I had read that these moths usually emerge just before sunrise, so I thought this would be a good time to take the moth outside. It had hung suspended, motionless, all night. I determined that it was a male, which is important to know, because if it had been a female, hanging around would have been normal. A male moth, however, is supposed to sense the females' pheromones on its antennae and fly to her. So my male moth should have wanted to fly. I thought maybe he was just hanging around because he was saving his energy until he sensed female pheromones. I had only been outside about 5 min., and snapped a few photos of him on some nicer backgrounds, when all of a sudden, he got energized and started flapping his wings. I covered my hands over him to calm him down, as this sometimes works to prevent a moth flying away, but he just kept flapping. So I took my hands off, and away he flew up into the morning sky, clearly on a mission. It was a great experience. I'm glad I was able to ensure his pupal stage was successful. He could have easily gotten stepped on just setting on the city property in front of the house.
These moths looked like diseased and dying leaves at first glance. This particular mating pair was spotted in the Saugatuck Dunes on the west side of Michigan on 7-24-04.
Unknown Moth
Waterloo State Park, April 16, 2016. Wide angle macro. Wingspan about 1 1/4".
Unknown Moth
Fenton, MI, June 23, 2013
Luna Moth, Actias luna
Eddy Discovery Center, May 31, 2013
Along the bog trail was this luna moth that had just recently emerged from its cocoon and was drying its wings.
After about an hour, I returned and it now had its wings spread.
Unknown moth
Clarkston, MI. May 19, 2013.
Unknown moth that looks like a broken twig
This unusual moth was found on my bricks outside during the day on August 4, 2010. They aren't as good of photographs as I would have liked---many are out of focus. It was hard to get the whole twig in view and have it all be in focus because of the angle the moth was resting.
Salt Marsh Moth (a.k.a. Salt Marsh Tiger and Acrea Moth), Estigmene acrea
This unusual moth was found on my bricks outside during the day on July 18, 2009.
Possibly Salt Marsh Moth Larva
This caterpillar was discovered on some oregano in the garden and photographed on July 16, 2011. I think it is a salt marsh moth caterpillar, but I'm not sure---there seems to be a lot of variety in the coloration of these caterpillars. I misted it with water for an interesting effect. I was hoping to photograph the cocoon and resulting moth, but unfortunately, a few days after its photo shoot, this one escaped from its enclosure and was never found.
Unknown inchworm
This inchworm was discovered on some coreopsis flowers I brought inside and had in a vase. I actually probably wouldn't have discovered it had it not been for noticing that one of my free-roaming pet jumping spiders, Solara, was on the vase, munching on another unlucky one of its species. It was photographed on June 30, 2009.
Green Pug Moth, Pasiphila rectangulata, a.k.a. Chloroclystis rectangulata
I found this strange moth on my fence on June 13, 2009. I have never seen anything like this before in Michigan. When I researched it and discovered what it was, it made me kind of worried and although I rarely kill anything but mosquitoes and the beetles that eat my artwork, I wondered if I should have killed this one. Unfortunately, I hadn't the time to research it until it had already flown away. I found that it was a green pug moth and that they are common in the UK and have been an introduced species in North America just recently (within the last 20-25 years). The larvae feed on the flowers of various Rosacea including apple, blackthorn, cherry, hawthorn, pear and quince. It said that they overwinter as an egg. After reading that, I think I know where it came from. About a month ago, I got a special dwarf grafted apple tree with 4 different varieties of apple on one tree. I am guessing it arrived on there. I hope it doesn't infest this area. From what I can find, it is already been spotted in New York, New England, Maine and Pennsylvania and really devastates fruit trees. Too bad such a neat-looking moth can be so bad.
Eight-spotted Forester, Alypia octomaculata
I have never seen one of these moths until June 6, 2009. Apparently, their larvae feed on grapevines, which are quite abundant at the edge of my property. Still, I was surprised to have not seen them at my previous home because I also had a lot of grape vines there. This one was in my lawn just outside the doorwall.
Dark-Spotted Palthis Moth, Palthis angulalis
This moth was found in the kitchen on July 27, 2008. It was about 1/2" long. It has a very unusual protrusion coming out from its head that looks like a nose of some sort.
Unknown Moth
I found this moth in the kitchen on July 19, 2008. It was about 3/4" long.
I found this interesting-looking moth in the kitchen on July 7, 2008. It is only about 1/2 inch long.
Chickweed Geometer, Haematopis grataria
Here is a male chickweed geometer moth. His antennae have lots of receptors for female pheremones. This one was photographed on June 15, 2008 on my wall in the kitchen.
Click here to see the female I photographed previously.
Pandora Sphinx Moth, Eumorpha Pandorus
On October 8, 2007, I took so many photos of this moth it needed its own page.
Visit my Pandora Sphinx Moth Page to see an extensive collection of photos. Just click on the photo below.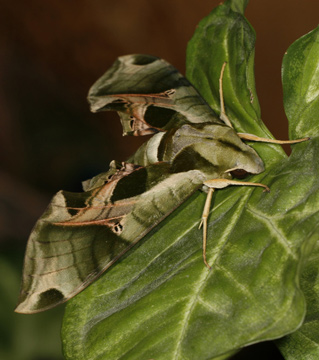 Woolly Bear, Pyrrharctia isabella Caterpillar (turns into Isabella Tiger Moth)
This caterpillar was found on 9-17-06 under a fabric dropcloth I had left outside in the driveway the previous night. It was photographed on a hasta leaf and summer poinsettia flowers. I found it quite fascinating to see the hind feet magnified to such an extent. I had no idea that each foot had 15-20 smaller hooks.
Unknown Moth
This moth was found on my canoe trip on the Huron River on 8-29-06. It was underneath a bridge.
Ailanthus Webworm Moth, Atteva punctella
This moth was on my side door on 8-24-06. It was about 1/2 inch long.
Geometer Moth of Genus Xanthotype (possibly Xanthotype attenuaria)
While camping in Nelson, Ohio on July 29, 2006, this moth came to my lantern during the night. I was able to get it to land on my hand and stay there for several minutes while I took it's photo.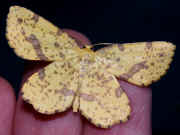 While camping in Nelson, Ohio on July 29, 2006, this moth also came to my lantern. It was less than an inch long. I love the little tufty hairs on its front legs. I've never seen such a fuzzy-legged moth before.
I found another one on August 4, 2011, in Michigan this time, right on my front storm door glass. I got some much better pictures than the last moth. Look closely at the top of the head and thorax---there is something that looks like kitchen scrubbies! I would have never seen that with my naked eye.
Tulip-tree Silkmoth, Callosamia angulifera
While camping in Nelson, Ohio on July 28, 2006, this beautiful moth came out on a rainy night. Of course, I had to try to get some photos of it. The poor thing had a large tear in one wing. The rain was beating it up too, so before photographing it, I let it dry underneath the lift gate of the car. It stayed there for a few hours while it rained. When the rain stopped, I took it out and put it on a tree trunk and photographed it. Sadly, in the morning, I found it on the ground with a yellow-jacket eating its abdomen. It was already dead.
Hickory Tussock Moth Caterpillar, Lophocampa caryae
I found many of this type of caterpillar while camping in Nelson, OH on July 29, 2006. I decided to photograph one of them.
Evergreen Bagworm Moth, Thyridopteryx ephemeraeformis
This cocoon was at Woodland Hills Nature Park on June 4, 2017
On August 1, 2005, Brian brought home this unusual caterpillar/cocoon that he found on a metal garbage receptacle outside his work. It was covered in pieces of cut leaves and all one could see was its head and a bit of its gray body at times. It had a few brief surges of energy and it moved around on a branch that he placed it on, then it sealed itself up. Click here to see a movie of it while it walked along a leaf. What is most interesting is that after seeing photos of other cocoons on bugguide.net, its cocoon is rather unusual because it doesn't have any evergreen needles attached to it.
On September 10, 2005, a dark-colored moth emerged and hung from the cocoon. Part of the pupa became exposed and one can see where it has split to allow the moth to be free. I thought it would have emerged from the side where its head was, but it came out the opposite end.
Chickweed Geometer, Haematopis grataria
This moth came inside when I let Darwin out in late September, 2005. It was more colorful than most of the small moths that fly around the light outside the door, so I decided it was photo-worthy. This one is a female (the antennae do not have large receptor sites like a TV antenna).
Polyphemus Moth, Antheraea polyphemus
This is one of my favorites. I took so many photographs it needed its own page.
Visit my Polyphemus Moth Page to see an extensive collection of photos and read about my personal experience with a female Polyphemus.
Just click on the photo below...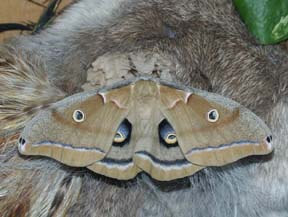 On August 9, 2003, I found a huge, green hornworm caterpillar walking across my driveway. I'd always wanted to find one of these. It was about 4-5 inches long---the largest caterpillar I've ever found. Unfortunately, I didn't get my digital camera until a few days later. I filled a container with a variety of leaves from everything in my yard. The next morning, it had already turned into a pupa! I thought it was rather late in the season and I was wondering when this creature was planning on emerging as a moth. I read about them in one of my wildlife encyclopedias and discovered that the pupa needed to overwinter and would emerge the following spring. I put the pupa in a smaller, covered container in some soil, put it in my refrigerator, and kept it moist throughout the winter. In early May, I took it out and kept it at room temperature. On May 21st, I came home from work and the moth had emerged! He was beautifully soft and fuzzy. However, his wings were folded under and he wasn't able to fly. I took some pictures of him on my woodburned door and let him go in the front flower bed. Amazingly, a week later, my boyfriend Brian found him on the sidewalk path to my house, almost dead.
To learn more about Michigan moths, click here.
To learn more about moths of North America, click here.
For links to photos of over 4100 moth species, click here.
Go to Insects, Spiders and Other Tiny Creatures Main Page
[ Cicadas ] [ Leaf-hoppers ] [ Ant Lions ] [ Praying Mantises ] [ Ants ]
[ Grasshoppers and Crickets ] [ Katydids ] [ Beetles and Other Insects ]
[ Bumblebees and Carpenter Bees ] [ Honeybees ] [ Wasps ] [ Flies and Other Flying Insects ] [ Centipedes and Millipedes ]
[ Moths ] [ Butterflies ] [ Skippers ]
[ Pandora Sphinx Moth ] [ Polyphemus Moth ] [ 5-Spotted Hawk Moth ] [ Anise Swallowtail ]
[ Jumping Spiders Volume 1 ] [ Phidippus jumping Spiders Volume 2 ] [ Phidippus jumping Spiders Volume 3 ] [ Baby Phidippus Jumpers ]
[ Biglegs the Jumping Spider ] [ Tufts & Mr. Greenfangs ]
[ Platycryptus undatus jumping spiders ] [ Platycryptus Babies ] [ Zebra Spiders ] [ Miscellaneous Jumping Spiders ]
[ Orb-Weavers Volume 1 ] [ Orb-Weavers Volume 2 ] [ Baby Orb-weavers ] [ Crab Spiders ] [ Miscellaneous Spiders ] [ Spider Webs ]
[ Home ] [ Artwork ] [ Photography ] [ Art Cars ] [ Virtual Museum ] [ Pets ] [ Favorite Links ] [ What's New / My Blog ] [ Guestbook ] [ For Sale ]
Copyright © 2007-2012 kozmicdreams.com. All rights reserved.
All materials contained on this site, including text, graphics and icons, are the property of kozmicdreams.com.