My Videos of
Chieli Minucci and Special EFX
2008 Tour
Chieli Minucci at the Village Theater at Cherry Hill in Canton, MI on September 6, 2008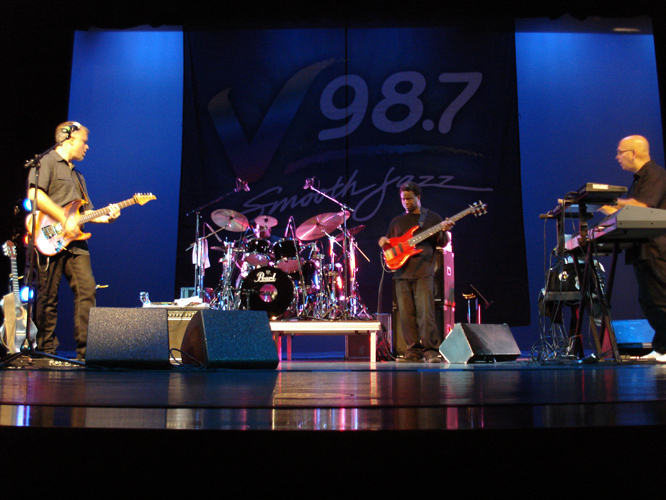 About a month before this show, I was in the process of throwing away the city newsletter (that I usually don't have time to read) when Chieli's name came into view and I took a second look. I mean, it was literally on it's way in the trash can when his name flashed before my eyes. This piece of mail was already setting around for a week or so before I even got to it, so I figured a lot of the good seats would be sold already. To my surprise, I got front row center!!! I've been a fan of his music since 1995 when I bought his album, "Jewels". I was so happy to finally get to see him play live. He put on an awesome show, with all my favorite up-tempo tunes. The only slow song he played was the one I like best, "Because We've Ended as Lovers". I don't know who originally composed that song, but his version is up at the top, along with Jeff Beck's. He played with his band Special EFX, which is Lionel Cordew on drums, Jerry Brooks on bass, and Jay Rowe on keyboards. I sure hope he comes around again soon. Until then, I'm so happy to have recorded the three videos below.
He was also nice enough to come out and sign autographs and take pictures. Here are Brian and I. You can tell how ecstatic I was by the look on my face in the candid shot that Brian took when I first walked up to Chieli.
Videos
You can watch in high quality by clicking the youtube icon in the lower right twice. This takes you to the youtube site, and you can choose "high quality" underneath the video.
Note: These were recorded with a Sony Cybershot (nothing special) so they will only give you a basic idea of what the show was like. Unfortunately, the bass hardly comes through at all.
"Courageous Cats" from the Jewels album
"New Bop" from the Sweet Surrender album
"Cruise Control" from the Special EFX Butterfly album
Go to Concert Photos Main Page
[ Project Object ] [ Ugly Radio Rebellion ] [ Ed Palermo Big Band ]
[ George Duke ] [ Zappa Plays Zappa 2006 ] [ Zappa Plays Zappa 2007 ] [ Jean-Luc Ponty ]
[ Joe Satriani ] [ Sonny Landreth ] [ Ozric Tentacles ] [ Chieli Minucci ]
[ Home ] [ Artwork ] [ Photography ] [ Art Cars ] [ Virtual Museum ] [ Pets ] [ Favorite Links ] [ What's New / My Blog ] [ Guestbook ] [ For Sale ]
Copyright © 2007-2012 kozmicdreams.com. All rights reserved.
All materials contained on this site, including text, graphics and icons, are the property of kozmicdreams.com.