My Photography of
2006 Summer Tour
Ed Palermo on the waterfront stage at the Detroit Jazz Festival at Hart Plaza in Detroit, MI on September 4, 2006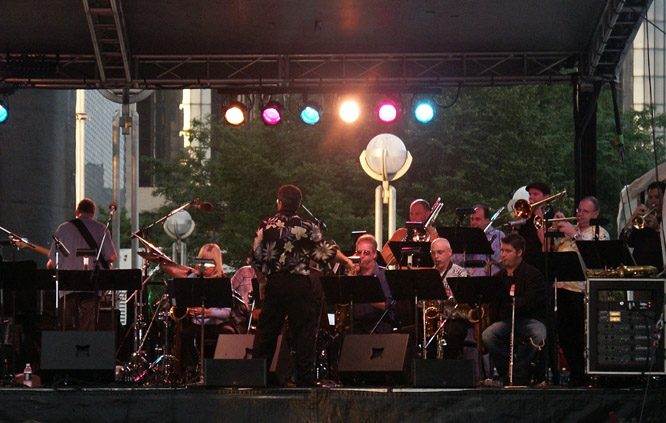 This was an amazing show. Ever since I heard the first Ed Palermo CD, I knew I wanted to see this band live. I'm so glad they were able to come to Detroit (apparently, one person helped out tremendously with travel expenses according to Ed, but I didn't catch their name or I'd credit them here). One funny thing was that since there were children at this show, certain song lyrics and titles had to be changed or not mentioned. For example, "G-spot Tornado" became "Gee, I Spot a Tornado" and Andy had a "strong" rind instead of "thong". I was cracking up! They did one thing I hadn't expected---they combined "Jingo Lo Ba" (known for being played by Santana, but actually written by Babatunde Olatunji) with "G-spot Tornado" and it sounded awesome!!! Wish I knew someone who recorded the show. I did get a few short movie clips (my camera only does 1-minute clips) so I put them at the bottom of this page.
Of course, after the show, I had to say hello to Napoleon and meet Ed for the first time and have him autograph his new CD. I forgot to ask for a set list though. A special thanks to Brian Beauchene for holding the camera bag and snapping the shots below as well as a few from above. He also shot the Echidna's Arf 2 movie below.
1-minute Movie Clips
Echidna's Arf 1 Echidna's Arf 2 Twenty Small Cigars 1 Twenty Small Cigars 2
Uncle Remus 1 Uncle Remus 2 Ed talking about Frank at show's end
Before you leave my website, you might also enjoy looking at the following pages:
The Music Machine, my airbrushed art car, dedicated to Frank Zappa
My Frank Zappa T-Shirt Collection
Go to Concert Photos Main Page
[ Project Object ] [ Ugly Radio Rebellion ] [ Ed Palermo Big Band ]
[ George Duke ] [ Zappa Plays Zappa 2006 ] [ Zappa Plays Zappa 2007 ] [ Jean-Luc Ponty ]
[ Joe Satriani ] [ Sonny Landreth ] [ Ozric Tentacles ] [ Chieli Minucci ]
[ Home ] [ Artwork ] [ Photography ] [ Art Cars ] [ Virtual Museum ] [ Pets ] [ Favorite Links ] [ What's New / My Blog ] [ Guestbook ] [ For Sale ]
Copyright © 2007-2012 kozmicdreams.com. All rights reserved.
All materials contained on this site, including text, graphics and icons, are the property of kozmicdreams.com.