Ephemera Collection: Stuffed Animals
Welcome to my stuffed animal collection page. As a child, I adored stuffed animals. This page highlights a few of my favorites.
Click on each thumbnail for an enlarged view of each item.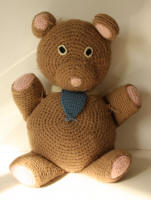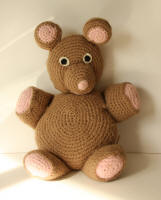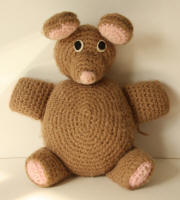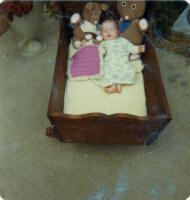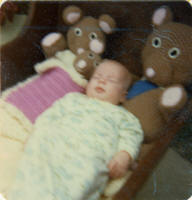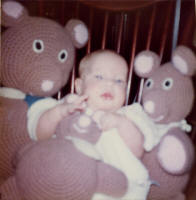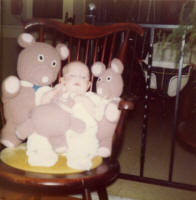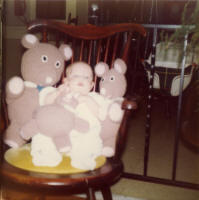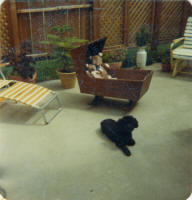 These hand-crocheted Papa, Mama, and Baby bears were made by Becky Brown's daughter as a gift when I was born. Also shown are photos of me at 4 weeks old with the bears and my dog, Sambo, on the back patio with the bears in the crib.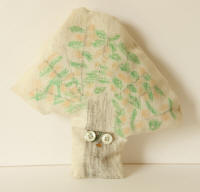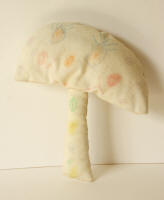 These stuffed items were made by me as a child by drawing in crayon on cloth, then ironing it in for a more permanent effect, then sewing it together and stuffing it (my mom did everything but the drawing, of course). The first one was made to represent our peach tree in the backyard. It was quite a big tree and was one of my favorite things growing up. The second one is a mushroom with a happy face.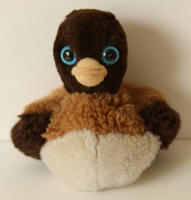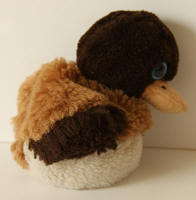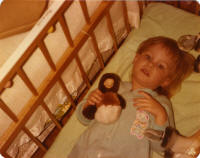 This stuffed duck was given to me by my paternal grandfather. The first photo I can find with the duck is from the fall of 1978. This duck got a lot of usage and went through the washer quite a few times. I even gave it an eye transplant when I was older and learned to sew (it used to have smaller brown eyes but one fell out).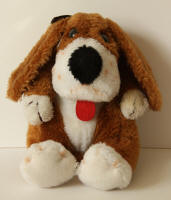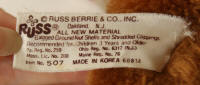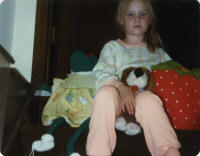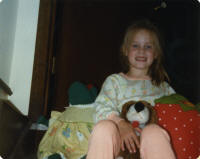 This is "Sad Sack" because he had a tag that said that when I bought him. Also shown are a couple photos of me in the fall of 1979 with Sad Sack.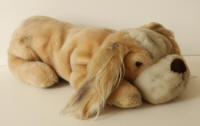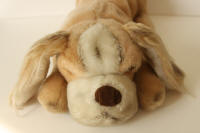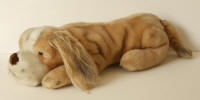 I named this dog "Cindy" after my Papa Rose's dog with the same name. They looked similar. Sadly, I have no photos of the real Cindy. Check out the fabric nose on this dog---they sure don't make them like that anymore.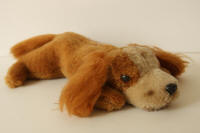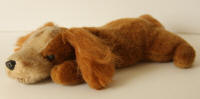 This is "Luncher". I named him as a child, but I don't remember what the name means anymore.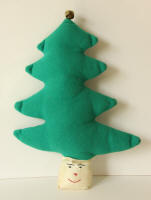 This tree was made by my mom on the night that I watched a DePatie-Freleng 1975 cartoon about a special tree called "The Tiny Tree." I was probably about 4 or 5 years old. I think something happened in the end and the tree was cut down. Anyhow, I was really sad and couldn't sleep, so my mom whipped out this cool tree on the sewing machine.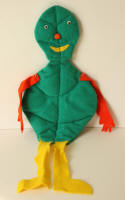 This is Leaf-man. I made him on the sewing machine when I was a kid. The leaf was an extra from my sunflower Halloween costume.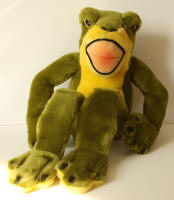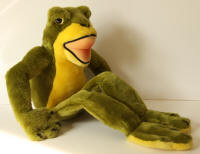 This super-soft plush frog was given to me by my paternal grandparents after they returned from a trip to Germany. I think I was probably about 7 or 8 years old. I wish I hadn't removed the tag from its left foot because now I can't remember the name of the company that made this frog.
Woodsy Owl. "Give a hoot, don't pollute!" "Help keep America looking good!" This was just a little stuffed animal, about 6" tall. He is probably from the early 1980s.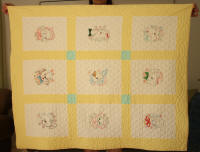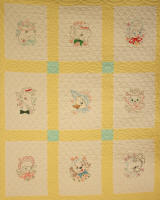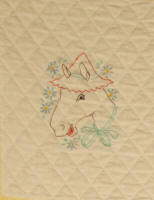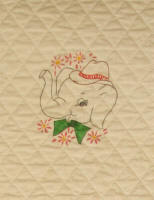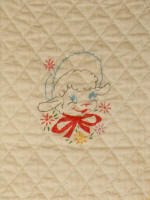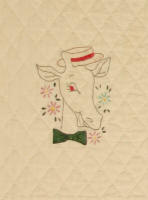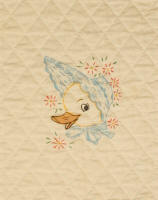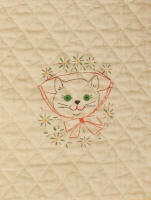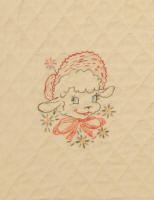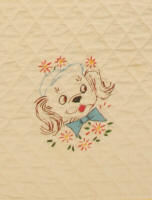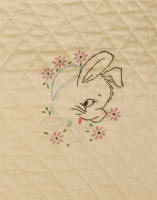 This isn't a stuffed animal, but it is a quilt with animals that I have had since I was very young. It was given to me by Anastasia Semkovich, my great grandmother. The quilt is 44" X 54".
Go to Ephemera, Nostalgia and Antiques Main Page
[ Vintage Tape Measures ] [ Frog In Your Throat Merchandise ] [ Dr. Scholl's and Other Foot Products ]
[ Medications and Old-time Remedies ] [ Health and Beauty ] [ Kitchen Items ] [ Household Maintenance and Repair ]
[ Car-related Items ] [ Chevrolet Perfume/Cologne Samples ] [ Toys ] [ Stuffed Animals ] [ Dolls ]
[ Tobacco-Related Items ] [ Miscellaneous Ephemera ]
[ Home ] [ Artwork ] [ Photography ] [ Art Cars ] [ Virtual Museum ] [ Pets ] [ Favorite Links ] [ What's New / My Blog ] [ Guestbook ] [ For Sale ]
Copyright © 2007-2012 kozmicdreams.com. All rights reserved.
All materials contained on this site, including text, graphics and icons, are the property of kozmicdreams.com.